Mr. and Mrs. Smith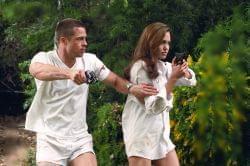 Photo: © 2005 Regency Entertainment (USA) Inc and Monarchy Enterprises S.a.r.l.
Director(s): Doug Liman
Writer(s): Simon Kinberg
Cast: Brad Pitt, Angelina Jolie, Adam Brody, Kerry Washington and Vince Vaughn
Release Date(s)
Jun 10, 2005 - Wide
Read our review.
Many two-career couples will tell you that it's a lot of work keeping a marriage together in that situation. It becomes a little more complex when both careers involve killing and the next assignment is your spouse.
That's the idea behind Mr. and Mrs. Smith, a script that began a screenwriter Simon Kinberg's Master's thesis at Columbia University Film School.
"The idea came from my passion for Hong Kong action films," says Kinberg, whose other credits include XXX: State of the Union and X-Men 3. "The Hong Kong action films were cool, sleek, sexy and kinetic, and all that became the impetus and framework for my original draft. I was still trying to figure out the story when my friends told me about their experiences in marriage counseling. It sounded like a kind of mercenary experience, which I felt could be grafted on the skin of an action movie."
Noted screenwriter and producer Akiva Goldsman loved the project. "Mr. and Mrs. Smith is all about danger, sex and misunderstanding," he says. "Rather than the traditional romantic comedy grammar, we have lots of action and bombs. But the action is secondary to character. The story is about a married couple being forced to hunt down and kill each other — and that forces them to pay attention to each other for first time in years."
Brad Pitt came onboard early and pushed for the selection of director Doug Liman who had made Go and The Bourne Identity. Liman loved the story, and says, "The film asks a question that is really fun to consider: How do assassins married to each other deal with their marital problems? Of course, the answer is, they try and kill each other."
The film had its "Mr." and its director, but it was still missing a "Mrs." Angelina Jolie had proven herself in the action field but her film schedule was also complicated by her work for the United Nations. When a film project fell through, Jolie was available to round out the dueling couple. The actress liked the script as well.
"There are dramatic scenes about relationship issues," Jolie says, "and huge action sequences and fight scenes that push the envelope, and also there is real comedy. It's a great balance and it's perfect because it's just like real life and marriage."
The action in the film balances off the romantic comedy. The two leads were put through rigorous firearms and tactics training. Second Unit Director/Stunt Coordinator Simon Crane felt that "The actors needed to learn a variety of the skills, such as weapons, firing rockets, driving cord bikes, and rock climbing. And to make it all look real, Brad and Angie constantly had to absorb new skills, and look like they'd been doing the tasks for years. There were lots of rehearsals. An audience wants to see the actors do their own stunts. They don't want to see CG. People want to go to movies to be entertained by their favorite actors. I'd rather spend time rehearsing, testing, making it safe for the actors and then putting them in situations that look precarious."
Again basing the rhythms of the script on the Hong Kong films he loves, screenwriter Kinberg said the feel was like a musical.
"The action had to be big and fun, and play like an exploration of character," he says. "In a musical when the characters' interaction encounters conflict or their love or excitement hits a fever pitch that they can't express with normal dialogue, they break into song. John and Jane break into gunplay or a chase sequence, which is an expression of where their characters are in the context of their relationship."
Will audiences dance to the music of Brad and Angelina? We'll have to wait until the film is released on June 10th.
Read our review.