Into the Woods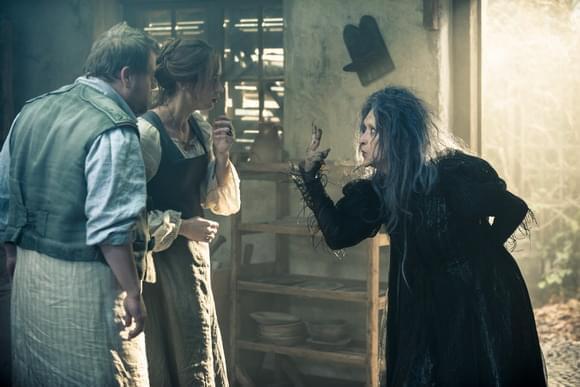 Photo: ©2014 Disney Enterprises, Inc.
Director(s): Rob Marshall
Writer(s): James Lapine
Cast: Meryl Streep, Anna Kendrick, Emily Blunt, Chris Pine, Johnny Depp, James Corden, Lilla Crawford, Mackenzie Mauzy and Daniel Huttlestone
Reviewed by: Ian Evans on
Release Date(s)
Dec 25, 2014 - Wide


This Christmas, there's another shopping list you need to be aware of: a cow as white as milk, a cape as red as blood, hair as yellow as corn and a slipper as pure as gold.

Based on the Broadway musical by composer and lyricist Stephen Sondheim and playwright James Lapine, Into the Woods weaves the story of a cursed and barren Baker (James Corden) and his wife (Emily Blunt) who must break the curse that keeps them childless. Their quest for the items needed to end the curse has them heading into the woods and crossing paths with fractured versions of the top tales from the Brothers Grimm: Little Red Riding Hood (Lilla Crawford), Cinderella (Anna Kendrick), Jack and the Beanstalk (Daniel Huttlestone) and Rapunzel (Mackenzie Mauzy). Throw in a witch with parenting issues (Meryl Streep), a couple of self-involved princes (Chris Pine and Billy Magnussen) and a brief appearance by a mangy wolf (Johnny Depp) and you've got a story that examines what happens when one's fairy tale wishes actually come true.

Directed by Rob Marshall, who also adapted Chicago, Into the Woods is a fairly faithful adaptation of the stage musical. There are a few nips and tucks to the story, but no doubt its faithfulness to the source material is due to the screenplay being written by the musical's writer, James Lapine. Marshall creates a nice juxtaposition to the fairy tale stories by rooting the exterior scenes in real environments. When characters head into the woods, they're actually in the British countryside and this naturalness grounds the stories in what is often a genre full of computer-generated artifice.

The real magic in this film is the casting, where I'm hard-pressed to find a performer out of place. Tony-winner James Corden, who'll soon be replacing Craig Ferguson on The Late Late Show, has the bumbling nature of a quiet man who is unsure of both his bravery and his ability to be a good father. Young Broadway vets Daniel Huttlestone (Oliver!) and Lilla Crawford (Annie) have the charm and voices that will guarantee them great musical careers. Pine and Magnussen are well-cast as the self-absorbed princes and their rendition of "Agony" was one of the rare cases where I was with an audience that cheered and applauded after a filmed musical number. Christine Baranski, Tammy Blanchard and Lucy Punch are perfectly evil as Cinderella's stepmother and stepsisters who'll go to any length to climb the social ladder.

Anna Kendrick, strong of voice and comedic chops, adds yet another musical film role to a career that includes Pitch Perfect and The Last Five Years and captures the uncertainty of a young woman who keeps running from the charming prince because she's unsure if she really wants what she's always dreamed of. Meryl Streep, is, well, Meryl Streep and has the acting side of the Witch down pat as she deftly moves from sinister to humorous as the story calls for it. Her witch has the depth perfect for a character that deals with the darker sides of parenting. Her singing voice, though pleasant and suited for the softer or funnier numbers, doesn't quite have the range to handle the show-stopper type of numbers.

Special mention has to go to Emily Blunt. She further cements herself as an actress you can't take your eyes off of as she easily draws us in with her performance. She perfectly handles the comedy, the drama, the uncertainty and doubt of the Baker's Wife and any scene with her in it is immediately a stronger one.

If you need a destination during the holidays, you should be heading Into the Woods.