15th Annual Screen Actors Guild Awards (2009)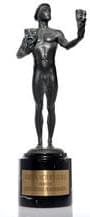 Actor Statuette
©2005 SAG
Date of Ceremony: Monday, January 26, 2009
For performances seen in: 2008
Nominations Announcement: Thursday, December 18, 2008
Location: Shrine Auditorium, Los Angeles, CA
The 15th Annual Screen Actors Guild Awards® took place on January 25, 2009 at the Los Angeles Shrine Auditorium.
James Earl Jones was given the Guild's highest honor, the 45th Annual Life Achievement Award.
Special thanks to the beautiful O Hotel for their assistance with our coverage stay and to Freeman Formalwear for Ian Evans' tuxedo.
Heading into the ceremony, the following production(s) had three or more nominations:
Doubt: 5
The Curious Case of Benjamin Button: 3
The Closer: 3
Milk: 3
30 Rock: 3
John Adams: 3
Boston Legal: 3