8th Annual Screen Actors Guild Awards Results and Commentary (2002)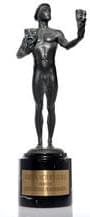 Actor Statuette
©2005 SAG
Date of Ceremony: Sunday, March 10, 2002
For performances seen in: 2001
The Shrine Audioruium hosted the 8th Annual Screen Actors Guild Awards® ceremony on Sunday, March 10, 2002.
Gosford Park took home Performance by a Cast in a Motion Picture, while the Leading Role awards went to A Beautiful Mind's Russell Crowe and Monster's Ball's Halle Berry.
The West Wing went home with the drama series ensemble, while Ensemble in a Comedy Series went home with the gals of Sex and the City.
The West Wing's Martin Sheen and Allison Janney and Will & Grace's Sean Hayes and Megan Mullally went home with the top TV acting statuettes.
Dakota Fanning, the youngest performer ever to receive an individual Actor® nomination presented a salute to child actors, while Tom Selleck presented Ed Asner with SAG's 38th Annual Life Achievement Award, a presentation that also included appearances by Kate Asner, Ed Begley, Jr., Mike Farrell, Danny Glover and Mary Tyler Moore.
"I pray that we retain that spirit of trying, of experimenting, of challenging, of keeping America fresh, innovative, a work in progress, and that we promise ourselves, above all, to reject the sacrifice of principle for playing it safe. Let's keep turning those lousy cabdrivers into decent actors, and never, never, never regret saying, 'Why not? What are they going to do, shoot you?' 

Thank you." – Ed Asner
Results
Outstanding Performance by a Cast in a Motion Picture
Gosford Park
Eileen Atkins, Bob Balaban, Alan Bates, Charles Dance Raymond, Stephen Fry, Michael Gambon, Richard E. Grant, Tom Hollander, Derek Jacobi, Kelly Macdonald, Helen Mirren, Jeremy Northam, Clive Owen, Ryan Phillippe, Kristin Scott Thomas, Maggie Smith, Geraldine Somerville, Sophie Thompson, Emily Watson and James Wilby
Outstanding Performance by a Male Actor in a Leading Role
Outstanding Performance by a Female Actor in a Leading Role
Outstanding Performance by a Male Actor in a Supporting Role
The Lord of the Rings: The Fellowship of the Ring
Ian McKellen
Outstanding Performance by a Female Actor in a Supporting Role
Gosford Park
Helen Mirren
Outstanding Performance by an Ensemble in a Drama Series
The West Wing
Stockard Channing, Dulé Hill, Allison Janney, Rob Lowe, Janel Moloney, Richard Schiff, Martin Sheen, John Spencer and Bradley Whitford
Outstanding Performance by a Male Actor in a Drama Series
The West Wing
Martin Sheen
Outstanding Performance by a Female Actor in a Drama Series
The West Wing
Allison Janney
Outstanding Performance by an Ensemble in a Comedy Series
Outstanding Performance by a Male Actor in a Comedy Series
Outstanding Performance by a Female Actor in a Comedy Series
Will & Grace
Megan Mullally
Outstanding Performance by a Male Actor in a Television Movie or Miniseries
Outstanding Performance by a Female Actor in a Television Movie or Miniseries
Life with Judy Garland: Me and My Shadows
Judy Davis
38th Life Achievement Award