9th Annual Screen Actors Guild Awards Results and Commentary (2003)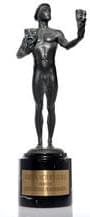 Actor Statuette
©2005 SAG
Date of Ceremony: Sunday, March 9, 2003
For performances seen in: 2002
The 9th Annual Screen Actors Guild Awards® aired on TNT from the Los Angeles Shrine Exposition Center on Sunday, March 9, 2003.
The musical film Chicago took home Outstanding Performance by a Cast in a Motion Picture, while Gangs of New York's Daniel Day-Lewis and Chicago's Renee Zellweger took home the top film Actor statuettes.
Six Feet Under took the drama ensemble, while the comedy series cast honored was Everybody Loves Raymond.
Speaking of Raymond, the series' star Ray Romano, presented SAG's 39th Annual Life Achievement Award to Clint Eastwood. The filmed tribute included remarks from Morgan Freeman, Marcia Gay Harden, Sean Penn, Arnold Schwarzenegger and Meryl Streep.
The ceremony also featured a montage saluting "Actors Who Sing" presented by three-time Actor® recipient Megan Mullally and a tribute to "Regional Actors" introduced by Michael Clarke Duncan.
Results
Outstanding Performance by a Cast in a Motion Picture
Chicago
Christine Baranski, Ekaterina Chtchelkanova, Taye Diggs, Dennis Faye, Colm Feore, Richard Gere, Deidre Goodwin, Mya Harrison, Lucy Liu, Queen Latifah, Susan Misner, John C. Reilly, Dominic West, Renée Zellweger and Catherine Zeta-Jones
Outstanding Performance by a Male Actor in a Leading Role
Outstanding Performance by a Female Actor in a Leading Role
Outstanding Performance by a Male Actor in a Supporting Role
Catch Me If You Can
Christopher Walken
Outstanding Performance by a Female Actor in a Supporting Role
Outstanding Performance by an Ensemble in a Drama Series
Six Feet Under
Lauren Ambrose, Frances Conroy, Rachel Griffiths, Michael C. Hall, Richard Jenkins, Peter Krause, Freddy Rodriguez, Jeremy Sisto and Mathew St. Patrick
Outstanding Performance by a Male Actor in a Drama Series
The Sopranos
James Gandolfini
Outstanding Performance by a Female Actor in a Drama Series
Outstanding Performance by an Ensemble in a Comedy Series
Everybody Loves Raymond
Peter Boyle, Brad Garrett, Patricia Heaton, Doris Roberts, Ray Romano and Madylin Sweeten
Outstanding Performance by a Male Actor in a Comedy Series
Outstanding Performance by a Female Actor in a Comedy Series
Will & Grace
Megan Mullally
Outstanding Performance by a Male Actor in a Television Movie or Miniseries
Door to Door
William H. Macy
Outstanding Performance by a Female Actor in a Television Movie or Miniseries
The Matthew Shepard Story
Stockard Channing
39th Life Achievement Award