34th Toronto International Film Festival Coverage: Day Two
George Clooney, Ewan McGregor and Matt Damon were some of the names people were screaming for on the red carpets today.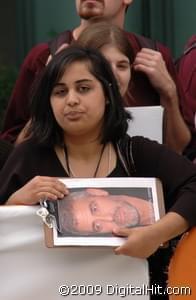 A fan holds a photo of George Clooney at the 2009 Toronto International Film Festival premiere of
Men Who Stare at Goats
. Looking closer, we realize it's
our
photo of George Clooney
. ©2009 DigitalHit.com. Photographer: Ian Evans All rights reserved.
Funniest moment: Seeing a woman holding a photo of George Clooney that she wanted to him to sign. Thinking the photo looked familiar. Suddenly realizing that it was a photo that I had taken.
The first premiere of the day was for Cracks. Directed by Ridley Scott's daughter, Jordan, Cracks stars Eva Green, Juno Temple and Maria Valverde, all of whom graced the red carpet. The film centres around a group of girls at an elite boarding school. When the swimming instructor they idolize begins to pay attention to a new student, they take matters into their own hands. As the film's tagline says, "Innocence isn't lost. It's taken."
Steven Soderbergh's latest, The Informant!, stars Matt Damon as Mark Whitacre, a bipolar whistleblower who helps the FBI. The film, based on the true story of price-fixing at Archer Daniels Midland, follows the executive, who hopes to become CEO after the dust settles only to have his investigation reveal his involvement in the scheme. Fellow cast Scott Bakula and Melanie Lynskey were also in attendance.
The ladies had more to shout about over at Roy Thompson Hall, where Grant Heslov's The Men Who Stare at Goats had its premiere. With a cast that features George Clooney, Ewan McGregor and Jeff Bridges, there was plenty for fans to scream about. The comedy, based on the book of the same name, is based on journalist Jon Ronson's investigation into the U.S. military's examination into psychic powers.
We also caught up with director Lu Chuan, who walked the red carpet to promote City of Life and Death, which traces the Battle of Nanjing during the Second Sino-Japanese War. The film did create some controversy in Mainland China. The director found himself facing death threats for what some perceived was a sympathetic portrayal of a Japanese soldier in the film.
Jane Campion's Bright Star follows poet John Keats (Ben Whishaw) and his muse, played by Abbie Cornish. The film received its premiere at Cannes earlier this year. The real "bright star" was Whishaw who has seen good critical notices for the roles he has chosen in his young career.
Whishaw was a hit with the fans in attendance as was Ben Barnes, who hit the red carpet for the latest adaptation of the Dorian Gray story. Since co-star Colin Firth was not in attendance, the 28-year-old Barnes carried the weight of the press attention on his shoulders, a task he handled with grace and charm.
TIFF Day Two Photo Galleries