36th Toronto International Film Festival Coverage: Day Three
September 10th, 2011 – by Ian Evans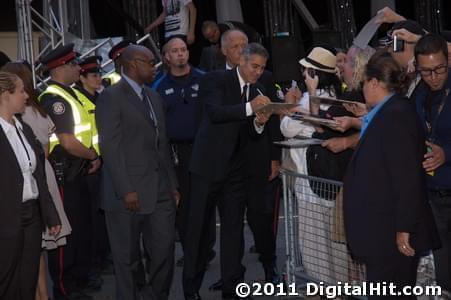 Arriving at the VISA Screening Room at Toronto's historical Elgin Theatre, George Clooney signs for fans at the premiere of The Descendants. ©2011 DigitalHit.com. All rights reserved. Photographer:Christine Lambert
Day three and TIFF's red carpets included Robert De Niro, Clive Owen and Jason Statham, Chloë Grace Moretz and Juliette Lewis, George Clooney, Keira Knightley and Viggo Mortensen, Hugh Laurie and Allison Janney, Russell Peters and Rob Lowe, Seth Rogen and Sarah Silverman.
A sunny Saturday afternoon was the perfect time to cover a film about mercenaries, Gary McKendry's feature directorial debut, Killer Elite. The film, which stars Jason Statham, Clive Owen, Robert De Niro and Yvonne Strahovski, is based on the 1991 novel by Sir Ranulph Fiennes and tells the story of an ex-special ops agent (Statham) who must rescue his mentor (De Niro) while completing a mission against a group of assassins and their cunning leader (Owen).
Over at the Elgin Theatre, director Derick Martini, who brought Lymelife to TIFF a few years ago, returns with Hick, a coming-of-age drama based on Andrea Portes 2007 novel. The film follows 13-year-old Luli (Chloe Grace Moretz) with a rough home life who runs away with her sights set on Vegas. Luli teams up with a grifter (Blake Lively) and the two get involved in some misadventures that include trying to evade a wannabe cowboy played by Eddie Redmayne. Martini said that he first read a draft of the screenplay by Portes and then followed that up by reading her book. He was immediately taken by the story as he saw it as a character-driven piece that would enable him to get some great performances from his cast. He also liked how the story had elements of humour in it but also some very dark corners.
When George Clooney comes to Toronto, he makes the best of his trips so we covered his second red carpet in as many days. The premiere was for Alexander Payne's The Descendants. Though Clooney did everything but catering for last night's The Ides of March, in Payne's film he concentrates on playing Matt King, a father who must try to reconnect with his two daughters after his wife ends up in a coma in a boating accident and he learns that she had been having an affair. Payne hasn't been at TIFF with a film since Sideways in 2004 and the wait was well worth it. There's a lot of buzz around Clooney's performance reaffirming that he's not just a star but an actor with a lot of chops.
Hometown here David Cronenberg returns to TIFF with A Dangerous Method. The film, written by Christopher Hampton, is adapted from his 2002 play The Talking Cure, which in turn was based on John Kerr's 1993 non-fiction book, A Most Dangerous Method: The Story of Jung, Freud, and Sabina Spielrein. A Dangerous Method examines the turbulent relationship between Carl Jung (Michael Fassbender) and his mentor Sigmund Freud (frequent Cronenberg collaborator Viggo Mortensen) as they treat a troubled patient portrayed by Keira Knightley in a relationship Cronenberg describes as a "an intellectual ménage à trois". Knightley told reporters in Toronto that it was a challenge getting into the mind of Spielrein, saying that "It really was a question of trying to find logic within what was perceived from the outside to be madness. As much as she knew that she was ill, there were logical reasons for the way in which she behaved."
Heading back up Yonge Street to the Elgin, we then covered premieres for The Oranges and Breakaway.
The Oranges, a comedy by Julian Farino, takes a look at the chaos created by two friendly families when one's newly single daughter (Leighton Meester) falls not for the other family's eligible son (Adam Brody) but for the father (Hugh Laurie). The film also features performances by Catherine Keener, Alia Shawkat, Oliver Platt and Allison Janney. The film's a bit of a work-in-progress as Farino admitted before the screening that the edit was completed just a few days before. Whether the version seen at TIFF is the version you'll see when it's released remains to be seen.
There's really no way to segue to the fact that the next screening was literally trumpeted by an elephant walking down Yonge Street. Breakaway, co-written by and starring first-timer Vinay Virmani, tells the story of the Speedy Singhs, an all-Sikh hockey team trying to just play Canada's national obsession while facing prejudices from one side and family expectations on the other. The film, directed by Robert Lieberman (who hit the ice before for D3: The Mighty Ducks), had Bollywood legend Akshay Kumar as one of its producers. Kumar came to Toronto to promote the film and screaming fans came to see him, comedian Russell Peters, ageless heartthrob Rob Lowe and rapper Drake, who most in Toronto remember as "Jimmy" from Degrassi. They were joined by Bollywood dancers, singers and yes, the aforementioned pachyderm.
From the screaming hordes on Yonge Street, we headed to the more subdued environs 'round Roy Thomson Hall, where Torontonian actor-director Sarah Polley brought fellow Canucks Seth Rogen and Luke Kirby and New Hampshire's own Sarah Silverman to the gala premiere of Polley's Take This Waltz. The film, which stars a sadly absent Michelle Williams, tells the bittersweet story of a married woman struggling to choose between her husband and a man she's just met.
A special shout-out goes to the guys at the Blackberry booth near Roy Thompson Hall. They came to the aid of a reporter with a dead phone despite the fact that it wasn't a Blackberry. On top of their kindness, they were also highly knowledgeable about all of RIM's latest phones and the new BlackBerry PlayBook. Thanks guys!
TIFF Day Three Photo Galleries