44th Toronto International Film Festival Coverage: Day Four
Sunday, September 8th, 2019 by Ian Evans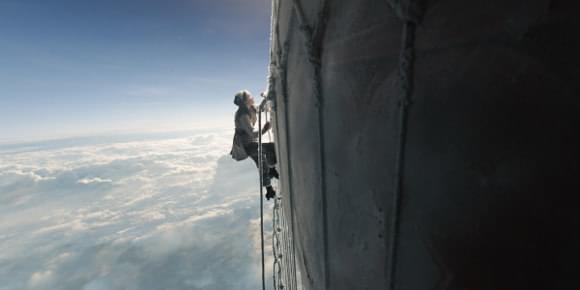 The Aeronauts courtesy of TIFF.
It's day four of the Festival and I started it off with a morning screening of Marielle Heller's A Beautiful Day in the Neighborhood. It tells the tale of a jaded journalist (Matthew Rhys) who is asked to write a profile of children's television legend Fred Rogers (Tom Hanks). He initially considers the assignment beneath his skills but finds Rogers' empathy intriguing, leading to a change in his own world view. The film is, quite simply, a lovely and sweet antidote to the steady stream of negative news that we are constantly hit with and displays the power of listening and caring for each other. Rhys is the audience's surrogate, as we find ourselves initially questioning whether Rogers' persona is just an act. Hanks' portrayal of Rogers is a masterclass in calm sincerity and empathy. Highly recommended.
Roy Thomson Hall played host to three gala screenings today, starting off with Tom Harper's The Aeronauts, which reunites Eddie Redmayne and Felicity Jones in the tale of a 19th-century scientist and a hot-air balloonist who seek the twin goals of breaking an altitude record and proving some controversial theories about meteorological forecasting. The pair are joined in the film by Himesh Patel and Tom Courtenay.
The next gala at RTH was John Crowley's The Goldfinch. Based on Donna Tartt's bestselling novel, the film follows a young man (Ansel Elgort) whose life was upended when his mother was killed in an art museum bombing that also resulted in a missing masterpiece. The story covers grief, guilt, criminal activities and personal secrets. Elgort is joined in the cast by Nicole Kidman, Finn Wolfhard, Jeffrey Wright, Sarah Paulson, and Luke Wilson.
The night at Roy Thomson closed with François Girard's The Song of Names, a historical drama starring Tim Roth and Clive Owen. It's the story of a man moved to try and locate his childhood friend, a musical prodigy orphaned in the Holocaust, who disappeared before his first public performance.
The VISA Screening Room at the Princess of Wales Theatre welcomed the premiere of Corey Finley's Bad Education. Based on a real embezzlement scandal that rocked Long Island in the early 2000s, it stars Hugh Jackman and Allison Janney as two school administrators milking the system for millions. With the Varsity Blues scandal currently in the headlines, this story of school-based shenanigans is quite timely.
The VISA Screening Room also premiered Taika Waititi's Jojo Rabbit, which I'll be watching tomorrow morning. The film stars Sam Rockwell, Scarlett Johansson, Rebel Wilson, Thomasin McKenzie, and newcomer Roman Griffin Davis in the story of a young boy in the Hitler Youth whose imaginary best friend is Adolf Hitler (Waititi). More on it tomorrow.
Upstairs at the Elgin, the Winter Garden Theatre played host to two movies from streaming services, both starring Adam Driver. Scott Z. Burns's The Report, from Amazon Prime, teams Driver with Annette Bening as the U.S. Senate's Intelligence Committee investigates the use of torture by the CIA following 9/11. Next up was Netflix's Marriage Story. Written and directed by Noah Baumbach, it stars Driver and Scarlett Johansson as married couple enduring a coast-to-coast divorce.