Zoe Saldana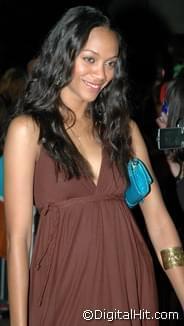 Check out our Zoe Saldana photo gallery.
Born: June 19, 1978 , New Jersey, USA
[Please note that we are recovering from a bad database backup and some of our bio entries might be a bit stale. We are baking up a fresh batch as soon as possible.]
Zoe Yadira Zaldaña Nazario was born on June 19th, 1978 in New Jersey. Her early performance training was in dance and she performed with troupes in New York City.
In 1999, her first television appearance was on the hit drama Law & Order. In 2000, her first time on the big screen was in the dance film Center Stage. This was followed by Get Over It with Ben Foster and Kirsten Dunst and Snipes with rapper Nelly.
In 2002, Zoe appeared in the Britney Spears' flop Crossroads and the music-themed Drumline as well. The next year, she was seen in Pirates of the Caribbean: The Curse of the Black Pearl starring Johnny Depp, Orlando Bloom and Keira Knightley.
In 2004, she played a cynical airline worker who turns around with the help of Tom Hanks in The Terminal and also reteamed with Orlando Bloom in Haven. The following year, Saldana was in Constellation, Guess Who with Ashton Kutcher and Bernie Mac, and Dirty Deeds with Milo Ventimiglia and Lacey Chabert.
2006 was a busy year for Zoe, as she starred in Premium with Dorian Missick, Ways of the Flesh opposite Wood Harris and Brian J. White and also began appearing on the series Six Degrees, whose ensemble cast featured Jay Hernandez, Bridget Moynahan, Erika Christensen, Dorian Missick, Campbell Scott and Hope Davis.
In 2007, Zoe starred in After Sex with Mila Kunis and Emmanuelle Chriqui and Blackout with Jeffrey Wright. 2008 saw her in the Secret Service thriller Vantage Point with Dennis Quaid, Matthew Fox, Forest Whitaker, Sigourney Weaver and William Hurt.
Legions of Star Trek fans welcomed Zoe to the role of Uhura in May of 2009 when she starred in J.J. Abrams' Star Trek alongside Chris Pine, Zachary Quinto, Eric Bana, Bruce Greenwood, Karl Urban, Simon Pegg, John Cho and Anton Yelchin.
As time progresses, we'll have more info about Zoe Saldana here. If you have any comments or suggestions about our coverage, please email us.