The Paperboy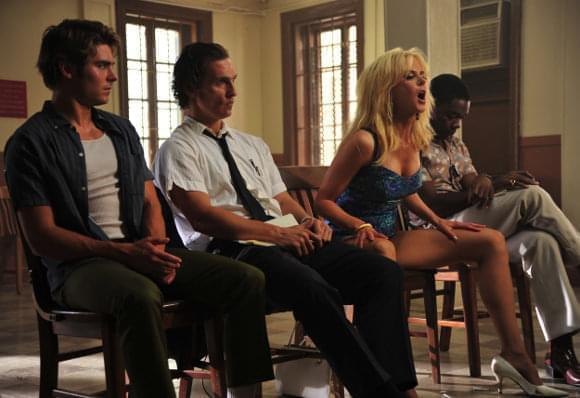 Photo: Image courtesy D Films.
Director(s): Lee Daniels
Writer(s): Peter Dexter
Cast: Matthew McConaughey, Zac Efron, David Oyelowo, Macy Gray, John Cusack, Nicole Kidman and Scott Glenn
Lee Daniels (Precious) serves up a Southern Gothic story of injustice, sexuality and family dynamics all mixed in with the upheaval of the civil rights movement in The Paperboy.
Two Miami Times reporters, Ward and Yardley (Matthew McConaughey and David Oyelowo) investigate possible systemic injustice in a small Florida town where McConaughey's dad (Scott Glenn) runs the local paper. They're looking at the case of Hillary Van Wetter (John Cusack) whose story is brought to them by his prison letter girlfriend Charlotte Bless (Nicole Kidman), who soon becomes the object of sweaty schoolboy lust for Ward's brother, Jack (Zac Efron).
The Paperboy is based on the 1995 novel by Pete Dexter, who also wrote the script. Says Daniels, "I read Pete Dexter's script and loved it! I was attracted to the story; it was another type of 'coming-of-age story.' And I liked the idea of giving voices to these characters we don't ordinarily see, but we know exist in the underbelly of today's society."
The films features the work of Matthew McConaughey and Nicole Kidman, who were both eager to work with Daniels after seeing Precious. McConaughey thought the role would be quite different for him. "When I read this role, it excited me. There was a shock value to it— I've never done anything with this much shock value as that of 'Ward.'" Kidman was so eager to work with Daniels that she was willing to take on a tight shooting schedule. "I loved Precious so much, so when I heard Lee was directing this, I got sent the script. I was already signed on to do another movie, but they said they could shoot me out in three weeks. When I read it, I thought 'what a great character!' and called Lee to say 'I'm in if you can make the schedule work!'"
Zac Efron, whose character has to face some life-changing moments pretty quickly, says he was intrigued by where the story was going. "The first time I read The Paperboy, my initial reaction was 'wow.' It was intense, especially with the way this movie ends. It blew me away. It's a big journey for a young man and it was full of all these twists and turns. It goes to some very dark, twisted places and very funny places, too, but at the end of the day, it was shocking."
Will The Paperboy deliver? See for yourself when the film opens in October 2012.
Read our review.