The Paperboy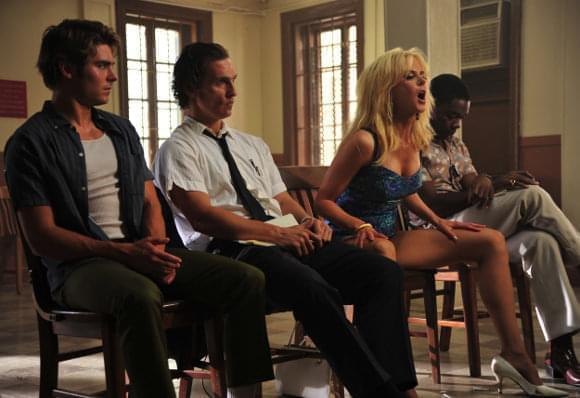 Photo: Image courtesy D Films.
Director(s): Lee Daniels
Writer(s): Peter Dexter
Cast: Matthew McConaughey, Zac Efron, David Oyelowo, Macy Gray, John Cusack, Nicole Kidman and Scott Glenn
Reviewed by: Ian Evans on
The Paperboy, directed by Precious' Lee Daniels, meanders through its 106 minutes like a lazy gator in the Everglades. Taking on themes of racism, injustice and sexuality, The Paperboy feels like it had high ideals but it was just too damn hot to do anything about them.
Macy Gray narrates the whole affair, going back to the beginning when a corrupt local sheriff gets killed and the violent swamp-dwelling Hillary Van Wetter (John Cusack) is quickly convicted. He strikes up a correspondence with the sexually-explosive Charlotte Bless, an older femme-fatale who has a thing for men behind bars. She enlists the help of two Miami Times reporters, former local boy Ward Jansen (Matthew McConaughey), whose father (Scott Glenn) publishes the local rag, and Yardley Acheman (David Oyelowo) whose intelligent and haughty tone upsets the balance in this town where racism is still a major factor.
The reporting duo hire Ward's brother, Jack (Zac Efron) as their driver. Jack, a former swimming champion with serious Mommy issues, falls instantly for trashy Charlotte, who despite his calling her every misogynistic name in the book, plans to marry Van Wetter if he can only get off death row.
As I said, the film meanders like the aforementioned alligator and Daniels never seems to settle on whose story it is. Is it Anita's, the wisecracking housekeeper narrating the events at the height of the civil rights movement? Is it Ward's story as he faces a race against the chair to uncover deep-rooted injustice, show up his father and keep his personal secrets hidden? Or is it a story for Jack, the tighty-whitey wearing swimmer who talks about masturbation with his housekeeper, falls for a sexually-free older woman, and deals with abandonment issues that stem from both his mother leaving and his older brother finding success outside the town.
This is one of those films that should have all the ingredients of a successful one, but somehow manages to have you leaving the theatre with a shrug rather than a shout. Zac Efron shows that his chops can run deeper than his High School Musical past but Daniels feels it necessary to have the poor guy in his underwear for most of the film. McConaughey's character swings from the most in control to the most vulnerable, while Cusack's violent over-the-top convict not only chews the scenery, but craps it out as well. Gray's narration feels stapled on to try and link together the story as evidenced by the fact that she's able to talk about events she wasn't even present for. Only Kidman seems to get the vibe of this film and creates a character so wild and trashy that she fits right in with the events going on around her.
The film is shot in the sort of saturated colours that give it the feel of the Zapruder film or a Polaroid. Social media types might say it looks like an Instagram photo and sadly this film has all the punch of a quickly forgotten Facebook update.
Read our profile.