17th Annual Screen Actors Guild Awards Results and Commentary (2011)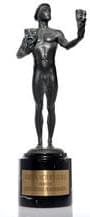 Actor Statuette
©2005 SAG
Date of Ceremony: Sunday, January 30, 2011
For performances seen in: 2010
Welcome to DigitalHit.com's coverage of the 17th Screen Actors Guild Awards which took place on January 30th, 2011. We were on the red carpet and backstage during the ceremony.
8:04 PM
Just ran off the carpet. Alec Baldwin and Betty White are the first presenters, presenting Best Male Actor in a Television Drama. And the Actor goes to Steve Buscemi for Boardwalk Empire.
"I want to thank Ellen Lewis, our wonderful casting director, on the pilot. I want to thank her especially for sticking with me and having faith after my awful audition 27 years ago when she brought me in to see Brian de Palma for The Untouchables. So, I was, you know, just like, 'Huma-huma-huma, thank you. Huma-huma, okay,' and I left." – Steve Buscemi
8:08 PM
Annette Bening and Mark Ruffalo stroll out next to present a clip from The Kids Are All Right.
8:10 PM
Cory Monteith and Eva Longoria are out next to present Best Female Actor in a Television Drama. And the Actor goes to Julianna Margulies for The Good Wife.
"And I just want to say thank you to my in-laws. Ken and Jane Lieberthal, thank you for producing truly the most spectacular human being who I get to call my husband. Life is just better with you in it, Keith." – Julianna Margulies
8:15 PM
The ceremony has gone to a commercial break. I'll take this moment to say that the red carpet was nuts. Started a little late so it was like shooting fish in a barrel. I really couldn't put my camera down for a second for fear of missing somebody!
8:20 PM
Taye Diggs and the lovely Sofia Vergara are paired tonight to present the Actor for Ensemble in a Drama Series. And the Actor goes to the cast of Boardwalk Empire.
8:24 PM
SAG President Ken Howard delivers his message to the audience. He reiterates the hope that SAG and AFTRA will soon merge and present one voice for actors.
8:26 PM
Dennis Haysbert introduces a clip compilation paying tribute to commercial actors.
8:28 PM
Jason Bateman presents Female Actor in a Supporting Role. And the Actor goes to Melissa Leo.
"I'm much better when I have my words written for me, and somebody's costumes to put on, like Mark Bridges' beautiful outfits. But when he showed them to me on the hanger, boy, I thought, 'I don't think so.'" – Melissa Leo
During the commercial break, the announcer implores winners to keep their speeches to 45 seconds as the show's stretching.
8:39 PM
The always irrepresible Amy Poehler presents Male Actor in a Comedy Series. And the Actor goes to Alec Baldwin.
"I'm so happy, we've had a great year with the show, and I feel compelled — because of everybody else — to thank the Teamsters. Thank you to the Teamsters, in New York. When you work in New York and you gotta go to work, you don't want to have to get a cab or the subway; it was very nice to have these people drive us to work every day." – Alec Baldwin
8:42 PM
Adding some eye candy for the ladies, Jon Hamm presents Female Actor in a Comedy Series. And the Actor goes to Betty White for Hot in Cleveland. She gets a standing ovation.
"We have these ladies: Valerie Bertinelli, and Wendie Malick, and Jane Leeves, and all of the — the whole wonderful cast of Hot in Cleveland. We can't wait to go to work every day. I know that sounds like a cliché to say we're family, we're more than family. We fell in love the first day we worked together and it's still like that." – Betty White
8:47 PM
Colin Firth, Geoffrey Rush and Helena Bonham Carter present a clip from The King's Speech.
8:48 PM
Angie Harmon, who looked radiant on the carpet, joins with LL Cool J to present Outstanding Performance by an Ensemble in a Comedy Series. And the Actor goes to the cast of Modern Family.
"When the cast told me they wanted me to speak, I started to think, 'Gee, I hope we don't win.' But thank you Screen Actors Guild members, this was one that I think we all wanted because the show, as you know is set up for an ensemble. And we're having a ball doing it, I'm very lucky to have the job — we all are." – Ed O'Neill
Almost halfway through the show.
8:58 PM
Julianna Margulies joins us backstage. She says she's so grateful to have this role, let alone be recognized for it. She says she'd die if she could even read a phone book with Colin Firth.
Meanwhile, the lovely Mila Kunis and the glowingly pregnant Natalie Portman present the clip for Black Swan.
9:00 PM
It's now time to present the Life Achievement Award to Ernest Borgnine. The introduction is handled by Tim Conway and we see some great clips of Borgnine's work.
9:03 PM
Melissa Leo joins us backstage.
9:08 PM
Steve Buscemi and the cast of Boardwalk Empire joins us backstage.
9:09 PM
Morgan Freeman introduces Ernest Borgnine as he takes to the stage to accept his honor.
"…I want to say one last thing about us. There are millions of those in the world who would love to be in our shoes. We are a privileged few who have been chosen to work in this field of entertainment. There are members of our group who will be long remembered for their work, and whom we still enjoy today. I hope that we will never let our dedication to our craft fail. That we will always give the best we possibly can to our profession, so the people may enjoy us in later years. On behalf of my family, my wife Tova — who I love — our thanks and our best wishes for your high success always. Thank you so very much for this great honor." – Ernest Borgnine
9:17 PM
Jeremy Renner and Robin Wright are cast tonight as the presenters for Outstanding Performance by a Male Actor in a Television Movie or Miniseries. And the Actor goes to Al Pacino. Sadly, Al's not here to accept.
9:20 PM
Jesse Eisenberg, Justin Timberlake, Andrew Garfield and Armie Hammer answer each other's friend request to present the clip for The Social Network.
9:21 PM
Rosario Dawson and Josh Duhamel present Female Actor in a TV Movie or Miniseries. And the Actor goes to Claire Danes for Temple Grandin.
"On the second day of filming I was just suddenly so panicked, I was overwhelmed — I had a real crisis of confidence. And I was shooting a scene with Catherine and she just used every tool in her, like, bag of funny. She just — she, like, was mugging and making faces, and she, like, crossed her eyes, and she did anything she could to just make me laugh and get out of my head, and chill out! And she rescued me then, and that kind of support was so abundant throughout this whole experience. So thank you." – Claire Danes
9:24 PM
The cast of Modern Family joins us backstage. As she leaves, Sarah Hyland comments on the weight of the statue.
9:26 PM
Hilary Swank introduces this year's In Memoriam segment.
9:34 PM
The announcer again implores people to keep their speeches short.
9:35 PM
Susan Sarandon strolls out to present Outstanding Performance by a Male Actor in a Supporting Role. And the Actor goes to Christian Bale.
"You know, I love acting, I love what we do. It's so bloody silly at times, isn't it? You know, it's like playing dress-up and other times it is so meaningful and I just enjoy that so much; we get to walk in other people's shoes. And, you know, a life without empathy is no fun at all, and I appreciate being able to do that." – Christian Bale
9:38 PM
Tim Conway and Ernest Borgnine join us backstage. He says the honor is special because "above all, it's from my peers."
9:40 PM
Amy Adams and Mark Wahlberg present a clip of their film The Fighter.
9:42 PM
Jeff Bridges, last year's winner for Best Actor is here to present Outstanding Performance by a Female Actor in a Leading Role. And the Actor goes to Natalie Portman.
"And I've been working since I was eleven years old, and SAG has taken care of me. They made sure that I wasn't working too long and made sure that I got my education while I was working. And I'm so grateful to have this union protecting me every day." – Natalie Portman
9:46 PM
Claire Danes joins us backstage, holding up her trophy she declares, "This is the heaviest of them all."
9:51 PM
It's now time for Nicole Kidman to present Outstanding Performance by a Male Actor in a Leading Role. And the Actor goes to Colin Firth.
"Now, until today I would say probably if ever I felt that I've had a trophy which is — told me that something's really happening for me — it was my SAG card. And, you know, to be a part of this extraordinary collective, if you — growing up in England you — it's not something you expect to see in your wallet really. And so it has this glow and I used to flash it around, hoping it would get me female attention. And…entry into night clubs and top level government departments — and it didn't. And now I've got this." – Colin Firth
9:56 PM
Donald Sutherland presents the night's final award, Outstanding Performance by a Cast in a Motion Picture. And the Actor goes to the cast of The King's Speech.
10:19 PM
Christian Bale joins us backstage now. He talks about the collaborative effort that goes into any acting job.
10:35 PM
Colin Firth and the rest of The King's Speech cast join us backstage.
Special thanks to the beautiful O Hotel for their assistance with our coverage stay and to Freeman Formalwear for Ian Evans' tuxedo.