Kate Bosworth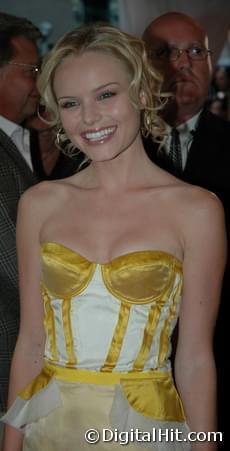 Check out our Kate Bosworth photo gallery.
Born: Jan. 2, 1983 Los Angeles, California, USA
[Please note that we are recovering from a bad database backup and some of our bio entries might be a bit stale. We are baking up a fresh batch as soon as possible.]
Catherine Ann Bosworth was born on January 2, 1983, in Los Angeles, California. Her early performance experience included a community theatre production of Annie and singing at county fairs.
Kate, is a champion equestrian and when the chance to audition for a movie about horses came hel auditions, it was too good to pass up. She landed the role of Scarlett Johansson's best friend in Robert Redford's 1998 film The Horse Whisperer. She went on to star in 2000's The Newcomers and was also seen in the short-lived television show The Young Americans. 2000 also saw her get a role in Remember the Titans with Denzel Washington.
Two years later, audiences really took notice of Bosworth in the summer flick Blue Crush with Matthew Davis and Michelle Rodriquez, where she played a surfer overcoming personal obstacles. That year, she also appeared in The Rules of Attraction with James Van Der Beek and Jessica Biel.
In 2003, Bosworth starred in Wonderland, with Val Kilmer playing the role of legendary porn star John Holmes. She was then seen with Josh Duhamel and Topher Grace in the comedy Win a Date with Tad Hamilton! Also in 2004, she teamed up with Kevin Spacey, playing Sandra Dee to his Bobby Darin in Beyond the Sea. In 2005, she was seen in Bee Season with Richard Gere and Juliette Binoche.
A dark-haired Bosworth played Lois Lane on the screen in 2006's Superman Returns starring Brandon Routh as Superman and Kevin Spacey as Lex Luthor. Returning to her blond hair, she was in 2007's The Girl in the Park with Sigourney Weaver and Keri Russell. She teamed up with Kevin Spacey again in 2008, where opposite Jim Sturgess, she played one of six card counting students that Spacey taught to win in Las Vegas in 21.
As time progresses, we'll have more info about Kate Bosworth here. If you have any comments or suggestions about our coverage, please email us.