5th Annual Screen Actors Guild Awards Results and Commentary (1999)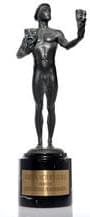 Actor Statuette
©2005 SAG
Date of Ceremony: Sunday, March 7, 1999
For performances seen in: 1998
The 5th Annual Screen Actors Guild Awards® were broadcast from the Shrine and aired on the TNT network on Sunday, March 7, 1999.
Shakespeare in Love won Actors for ensemble and Gwyneth Paltrow, while Life is Beautiful's Roberto Benigni took home Male Actor in a Leading Role.
While E.R. once again took home the Drama ensemble award, Ally McBeal went home with Outstanding Performance by an Ensemble in a Comedy Series.
Kirk Douglas was the recipient of the year's Life Achievement Award. Presenters for Kirk's honor included Janet Leigh, Karl Malden, Lauren Bacall, and Dan Aykroyd. His son, Michael Douglas, also paid tribute.
Results
Outstanding Performance by a Cast in a Motion Picture
Outstanding Performance by a Male Actor in a Leading Role
Outstanding Performance by a Female Actor in a Leading Role
Outstanding Performance by a Male Actor in a Supporting Role
A Civil Action
Robert Duvall
Outstanding Performance by a Female Actor in a Supporting Role
Primary Colors
Kathy Bates
Outstanding Performance by an Ensemble in a Drama Series
E.R.
George Clooney, Anthony Edwards, Laura Innes, Alex Kingston, Eriq LaSalle, Julianna Margulies, Kellie Martin, Paul McCrane, Gloria Reuben and Noah Wyle
Outstanding Performance by a Male Actor in a Drama Series
Law & Order
Sam Waterston
Outstanding Performance by a Female Actor in a Drama Series
Outstanding Performance by an Ensemble in a Comedy Series
Ally McBeal
Gil Bellows, Lisa Nicole Carson, Portia De Rossi, Calista Flockhart, Greg Germann, Jane Krakowski, Lucy Liu, Peter MacNicol, Vonda Shepard and Courtney Thorne-Smith
Outstanding Performance by a Male Actor in a Comedy Series
Outstanding Performance by a Female Actor in a Comedy Series
Tracey Takes On
Tracey Ullman
Outstanding Performance by a Male Actor in a Television Movie or Miniseries
Rear Window
Christopher Reeve
Outstanding Performance by a Female Actor in a Television Movie or Miniseries
35th Life Achievement Award