6th Annual Screen Actors Guild Awards Results and Commentary (2000)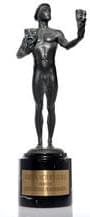 Actor Statuette
©2005 SAG
Date of Ceremony: Sunday, March 12, 2000
For performances seen in: 1999
The Shrine was turned into a candlelit dinner venue when the 6th Annual Screen Actors Guild Awards® aired on TNT on Sunday, March 12, 2000.
American Beauty, which had been generating awards buzz since it's screenings at the Toronto International Film Festival, went home with Outstanding Performance by a Cast in a Motion Picture, while its two leads, Kevin Spacey and Annette Bening, went home with the Leading Role statuettes.
Outstanding Performance by an Ensemble in a Drama Series went home with The Sopranos, while Frasier took home the ensemble comedy award.
Denzel Washington presented SAG's 36th Annual Life Achievement Award to Sidney Poitier, who made a moving acceptance speech.
Results
Outstanding Performance by a Cast in a Motion Picture
Outstanding Performance by a Male Actor in a Leading Role
Outstanding Performance by a Female Actor in a Leading Role
Outstanding Performance by a Male Actor in a Supporting Role
Outstanding Performance by a Female Actor in a Supporting Role
Outstanding Performance by an Ensemble in a Drama Series
The Sopranos
Lorraine Bracco, Dominic Chianese, Edie Falco, James Gandolfini, Robert Iler, Michael Imperioli, Nancy Marchand, Vincent Pastore, Jamie-Lynn Sigler, Tony Sirico and Steve Van Zandt
Outstanding Performance by a Male Actor in a Drama Series
The Sopranos
James Gandolfini
Outstanding Performance by a Female Actor in a Drama Series
Outstanding Performance by an Ensemble in a Comedy Series
Frasier
Peri Gilpin, Kelsey Grammer, Jane Leeves, John Mahoney and David Hyde Pierce
Outstanding Performance by a Male Actor in a Comedy Series
Outstanding Performance by a Female Actor in a Comedy Series
Outstanding Performance by a Male Actor in a Television Movie or Miniseries
Oprah Winfrey Presents: Tuesdays With Morrie
Jack Lemmon
Outstanding Performance by a Female Actor in a Television Movie or Miniseries
36th Life Achievement Award