44th Toronto International Film Festival Coverage: Day Five
Monday, September 9th, 2019 by Ian Evans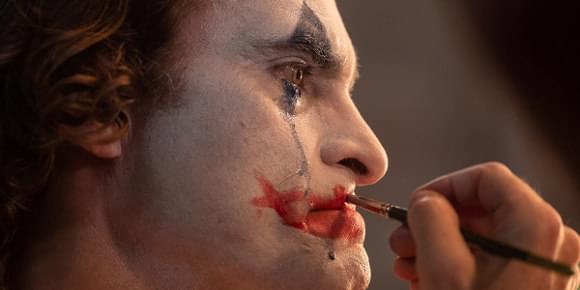 Joker courtesy of TIFF.
I started off the day screening Taika Waititi's Jojo Rabbit. Newcomer Roman Griffin Davis stars as a young German boy, Jojo, who is enthralled by the ruling Nazis so much that his invisible friend is Adolf Hitler (Waititi). His mother (Scarlett Johansson) is less enthralled and when Jojo discovers his mother is secretly housing a Jewish teen, his world and his views are turned upside down. The movie, which also stars Sam Rockwell, Rebel Wilson, and Thomasin McKenzie, is at times silly, dark, moving and utterly charming. One aspect of this film that some audience members may not know is that the use of children and seniors as soldiers in the waning months of the war is not some satirical invention but a real last ditch attempt by Hitler to save his Reich.
I also screened the documentary Citizen K from director Alex Gibney. It traces the story of Mikhail Khodorkovsky, who was once believed to be the wealthiest man in Russia. When the USSR collapsed, Khodorkovsky capitalized on the availability of state assets and created both the first commercial bank and Russia's biggest oil company, Yukos. Unlike other oligarchs, Khodorkovsky criticized government corruption and found himself on the business end of Putin's political apparatus. Arrested on fraud and subsequently charged again with other trumped up crimes, he underwent what was essentially a show trial and spent a decade in prison. He now lives in exile in the UK, where he has become an advocate for human rights and democracy in his homeland. The film is a chilling look at what happens when an entire country's power and media can be brought to bear against one "troublesome" citizen.
Roy Thomson Hall played host to Ford v Ferrari and Joker, both of which I'll be screening later in the festival. Director James Mangold's Ford v Ferrari tells the true tale of the Ford Motor Company's drive to beat Ferrari at Le Mans, and stars Matt Damon and Christian Bale as Carroll Shelby and Ken Miles, the designer and race car driver hired to make the dream come true.
Todd Phillips' Joker is his take on the Batman villain's origin story. Joaquin Phoenix plays Arthur Fleck, a discarded man in a crumbling city, who people ignore and mistreat at their own peril. There's been a lot of buzz about this one, so I'll be interested to see it.
The VISA Screening Room at the Princess of Wales Theatre had the premiere of Steven Soderbergh's The Laundromat. Starring Meryl Streep, Gary Oldman, Antonio Banderas, and Jeffrey Wright, the movie examines the intricate web of money laundering, tax evasion and corruption brought to light by investigative journalist Jake Bernstein's look at the Panama Papers, Secrecy World. It's the sort of story that'll have you shoving your money in a mattress.
The Laundromat was followed by Uncut Gems from directing brothers Benny Safdie and Josh Safdie. Adam Sandler plays Howard Ratner, a hustling jeweler whose clients include many famous athletes including NBA star Kevin Garnett. A stolen gem, a vicious loan shark, a mistress, and a wife all complicate Ratner's life.
Also of note today was the premiere of The Two Popes at the Winter Garden. Director Fernando Meirelles tells the story behind the 2013 abdication of the papacy by Pope Benedict (Anthony Hopkins) and the ascendancy by the unlikely candidate Cardinal Jorge Mario Bergoglio (Jonathan Pryce). The two men debate and discuss the future of the Catholic Church and their own visions of what it can be.