Connie Nielsen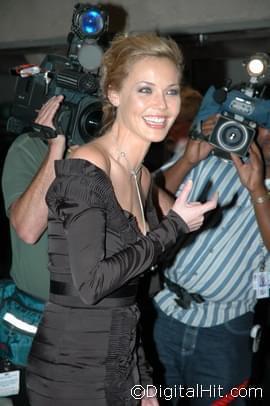 Check out our Connie Nielsen photo gallery.
Born: July 3, 1965 Elling, Frederikshavn, Denmark
[Please note that we are recovering from a bad database backup and some of our bio entries might be a bit stale. We are baking up a fresh batch as soon as possible.]
Connie Inge-Lise Nielsen was born on July 3, 1965, Elling, Frederikshavn, Denmark. No doubt influenced by her mother, an insurance clerk who acted in the local revue scene, Nielsen made her stage debut with her when she was fifteen years old. She studied acting in South Africa, New York and Rome.
Fluent in many languages, Nielsen made her feature film debut in 1984's Par où t'es rentré? On t'a pas vu sortir a film Jerry Lewis made soley for European distribution. In 1988, she landed a role in the Italian mini-series Colletti bianchi. That was followed by Vacanze di Natale '91 in 1991 and Le paradis absolument in 1993.
Though her first English speaking role was in the TV movie Voyage with Eric Roberts and Rutger Hauer in 1993, her first attention-getting English language performance was in 1997's The Devil's Advocate with Keanu Reeves and Al Pacino.
A busy 1998 saw Connie in Permanent Midnight with Ben Stiller and Elizabeth Hurley, Rushmore with Jason Schwartzman, and Soldier with Kurt Russell. She started the 2000's with another busy year, as she starred in Dark Summer and Mission to Mars with Gary Sinise, Tim Robbins and Don Cheadle. The biggest project of that year was the blockbuster Gladiator which saw her working with Russell Crowe and Joaquin Phoenix under the watchful eye of director Ridley Scott.
Teaming with Michael Vartan, Nielsen was part of a family stalked by Robin Williams in 2002's One Hour Photo, a year which also saw her in the thriller Demonlover. In 2003, she starred in The Hunted with Tommy Lee Jones and Benicio Del Toro and Basic with John Travolta and Samuel L. Jackson. After Return to Sender in 2004, Connie made The Great Raid with Benjamin Bratt and James Franco and The Ice Harvest with John Cusack and Billy Bob Thornton.
After 2006's The Situation, Connie landed a recurring role on Law & Order: Special Victims Unit while star Mariska Hargitay was on maternity leave. That was followed by Stuart Townsend's directorial debut, Battle in Seattle, with Charlize Theron and Penelope Cruz, the 2008 TV movie Danny Fricke and A Shine of Rainbows in 2009.
On the personal side, Connie's heart has beaten for Metallica drummer Lars Ulrich since 2003.
As time progresses, we'll have more info about Connie Nielsen here. If you have any comments or suggestions about our coverage, please email us.