Ewan McGregor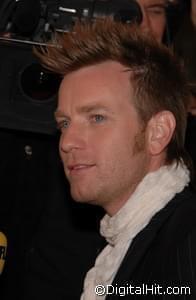 Check out our Ewan McGregor photo gallery.
Born: Mar. 31, 1971 Crieff, Scotland, UK
[Please note that we are recovering from a bad database backup and some of our bio entries might be a bit stale. We are baking up a fresh batch as soon as possible.]
Ewan McGregor is a talented, hard-working actor who saw his professional and celebrity life put under the microscope with the release of George Lucas' Star Wars: Episode I – The Phantom Menace, where he played the young Obi-Wan Kenobi, a role made famous by Sir Alec Guiness.
Ewan was born in Scotland in 1971. His path to the acting world was set in his mind at nine and he joined the Perth Repertory Theatre at age 16. He found his way to London where he studied at the Guildhall School of Music and Drama and subsequently landed a role in the Channel 4 series Lipstick on Your Collar in 1993. That year also saw his feature film debut in Bill Forsyth's Being Human which starred Robin Williams. The film received very mixed reviews.
Following that McGregor landed the leading role of Julien Sorel in the BBC miniseries Scarlet and Black. However it was his role as the young journalist Alex Law, part of a trio of roommates who slide down the slippery slope of murder and insanity in Shallow Grave, that really put him on the map. Following that flick with Blue Juice, he later reteamed with Shallow Grave director Danny Boyle to appear as the charismatic heroin addict in Trainspotting.
He has appeared opposite Gwyneth Paltrow in Emma, Cameron Diaz and Holly Hunter in A Life Less Ordinary, which marked his third collaboration with Danny Boyle, and Michael Caine in Little Voice.
His US television debut was in a 1996 episode of HBO's Tales From the Crypt.
In 2001, he appeared in both Moulin Rouge (with Nicole Kidman) and Black Hawk Down. He reprised his Obi-Wan role in 2002's Episode II: Attack of the Clones.
2003 saw Ewan starring in the retro romantic comedy Down with Love opposite Renee Zellweger, working with Tilda Swinton in Young Adam, and playing the younger version of Albert Finney's character in Big Fish. He took a bit of a breather until 2005, when he lent his voice to two animated projects, Robots and Valiant, finished off the prequels with Star Wars: Episode III – Revenge of the Sith, got chased with Scarlett Johansson in The Island, and played a psychiatrist in Stay with Naomi Watts and Ryan Gosling.
The following year, McGregor took the action route with Stormbreaker, appeared in Scenes of a Sexual Nature, and teamed with Renee Zellweger again for Miss Potter. In 2007, he worked opposite Colin Farrell on Woody Allen's Cassandra's Dream. 2008 saw him appear in Incendiary, and then star with Hugh Jackman and Michelle Williams in Deception.
As time progresses, we'll have more info about Ewan McGregor here. If you have any comments or suggestions about our coverage, please email us.