19th Annual Screen Actors Guild Awards Results and Commentary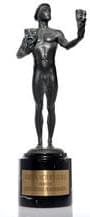 Actor Statuette
©2005 SAG
Date of Ceremony: Sunday, January 27, 2013
For performances seen in: 2012
As is the tradition, the show opens with actors (Jane Krakowski, Chris Tucker, Helen Hunt, Hal Holbrook, Alfre Woodard, Darren Criss and Sofia Vergara) telling us how they got into the profession.
And we're off…tonight's first presenter is Nicole Kidman. Nicole, who's nominated for both film and TV roles tonight, is presenting Male Actor in a Supporting Role. The Actor goes to Lincoln's Tommy Lee Jones. Jones is not there to accept. Kidman says that "He's not here tonight, so I will accept this award on his behalf. But he will definitely get it."
Bradley Cooper and Jennifer Lawrence now introduce a clip for Silver Linings Playbook, whose cast is nominated for the ensemble award tonight.
Justin Timberlake, who recently released the single "Suit & Tie" after a bit of a musical hiatus, walks out to present Female Actor in a Supporting Role. The Actor goes to Anne Hathaway for her performance as Fantine in Les Miserables.
"Thank you. I'm just so thrilled I have dental. I got my SAG card when I was 14. It felt like the beginning of the world. I have loved every single minute of my life as an actor, and I have been the recipient of so much kindness and support from actors in this room and out of it. Thank you for nominating alongside incredible women and incredible performances. Thank you for this award." – Anne Hathaway
Newsroom's Jeff Daniels and Scandals' Kerry Washington add some drama to the comedy categories as they present Male Actor in a Comedy Series. Alec Baldwin wins his seventh straight for his role as Jack Donaghy in 30 Rock, which has its series finale this week.
"Oh my God! This is ridiculous. So again I have to say thank you to Tina and to all of our writers, great, great writers; it's the end of our show, which is sad, everybody's sad about that. It was the greatest experience I've ever had. So thank you to Tina and Robert Carlock and Kay Cannon and all of our writers who were fantastic." – Alec Baldwin
Alec's award is followed by Female Actor in a Comedy Series, which is presented by Game Change's Julianne Moore and Homeland's Damian Lewis. The Actor statuette goes to Baldwin's 30 Rock co-star, Tina Fey. She reminds people that the show's finale is on this week "…up against The Big Bang Theory. So, just tape The Big Bang Theory for once, for crying out loud!"
"Thank you for letting me in this union, and I… I share this with everyone else in our cast. With Jane and Tracy and Judah and Alec, and Keith and Scott and everybody. I feel like, I also want to say I share this with my sweet friend, Amy Poehler who I've known for so long. I've stolen many of your moves. Amy, I've known you since you were pregnant with Lena Dunham. I've known you so long. And I love you. And to Robert Carlock for keeping this ridiculous train moving when I was on set. And to my husband Jeff Richmond for scoring every episode for free, because we're married. I love you so much." – Tina Fey
Following Tina's acceptance speech, the clip for the ensemble nominated film Argo was introduced by cast members Ben Affleck, Alan Arkin, John Goodman and Bryan Cranston.
Next up, it's a mini-ER reunion as The Good Wife's Julianna Margulies and Falling Skies' Noah Wyle present the SAG Award for Ensemble in a Comedy Series. And the Actor goes to the cast of Modern Family. Jesse Tyler Ferguson spoke on behalf of the cast.
"We are so honored to be nominated against the brilliant casts of Glee and Nurse Jackie, Big Bang 'ratings' Theory. But also I think we'd be doing the evening a great disservice if we didn't mention the brilliant departing casts of 30 Rock and The Office. You all have set the comedy bar so high, and if we can just be half as brilliant and smart and wonderful as you are, then we've succeeded. We're all fans of yours, except for Aubrey, she has no idea who you guys are." – Jesse Tyler Ferguson
The loving couple of Liev Schreiber and Naomi Watts share the task of presenting Outstanding Performance by a Female Actor in a Television Movie or Miniseries. And the Actor goes to Julianne Moore for her performance as Sarah Palin in Game Change. Moore talked about teamwork before reading off a large list of her cast mates.
"This means so much to me coming from all the actors who voted. It's really, really meaningful. And thank you for putting me in the company of these amazing actresses, all of whom I admire so very much. You know, we watch a lot of basketball in my family and we talk constantly about what it takes to win a championship. And it's not about individual achievements, it's really about the team." – Julianne Moore
Time for Outstanding Performance by a Male Actor in a Television Movie or Miniseries, a category presented by 30 Rock's James Marsden and Damages' Rose Byrne. And the Actor goes to Kevin Costner for Hatfields and McCoys. Costner was not there to accept.
The co-presidents of the newly merged SAG-AFTRA union, Ken Howard and Roberta Reardon, come out to talk about the merger and to thank the other film and television guilds and unions.
Anne Hathaway and Hugh Jackman stroll out arm-in-arm to introduce the clip from Les Miserables. They describe the film's plot, then Jackman says, "Anne and I also like to describe it in more 2013 movie terms."
Hathaway: "Wolverine is being chased by Gladiator."
Jackman: "Catwoman gets knocked up and for some ungodly reason goes to see Bellatrix Lestrange from Harry Potter and Borat."
Hathaway: "Then Wolverine agrees to raise Catwoman's baby."
Jackman: "And she grows up to star in Mamma Mia."
Alec Baldwin is here now to introduce the Life Achievement honouree, Dick Van Dyke. After a wonderful series of clips from his great career, a smiling Dick Van Dyke takes to the stage to a standing ovation. "Aren't we lucky to have found a line of work that doesn't require growing up?"
"You know, I have to say this: I am looking at the greatest generation of actors in the history of acting. You've all lifted the art, I don't know, to another place now. And besides that, you're everywhere. You're in Darfur, Somalia, Haiti, New Orleans, you're all over the place." – Dick Van Dyke
Amy Poehler and Neil Patrick Harris are presenting Outstanding Performance by a Male Actor in a Drama Series. They each say a list of words that sound dramatic if said loudly and slowly like "Courage" and "Betrayal." And the Actor goes to Bryan Cranston for Breaking Bad. It's his first win.
"What a wonderful job. And to my brothers and sisters in SAG-AFTRA who have endowed me with this wonderful, wonderful award. And so, tonight at least I'm well endowed. Thank you very much and goodnight." – Bryan Cranston
And now Dev Patel introduces the clip for The Best Exotic Marigold Hotel.
Taye Diggs and Busy Philipps work together to present the Actor for Outstanding Performance by a Female Actor in a Drama Series. And the Actor goes to Claire Danes for Homeland. It's her second SAG Award.
"Wow! That's very cool. So, I guess I'm an 'actor,' I'm not an 'actress.' That answers that question. This is amazing. Thank you. Thank you very much. As a brand spanking — or 'Spanxing' — new mom, I keep finding myself referring to the cliché of 'It takes a village to raise a child.' And the same is very much true of making a television series. And it means everything to be here with my buddies, my cast, my brilliant cast. " – Claire Danes
Jessica Chastain comes out to introduce the In Memoriam segment. Some of the SAG members who passed in the last year include Ben Gazzara, George Lindsey, Lupe Ontiveros, Deborah Raffin, Peter Breck, Larry Hagman, Whitney Houston, Alex Karras, Martha Greenhouse, Susan Tyrell, Al Freeman Jr., Gary Collins, Nicol Williamson, Robert Hegyes, Ron Palillo, Jack Klugman, Herbert Lom, Conrad Bain, Yale Summers, Ann Rutherford, Jonathan Frid, Harry Carey Jr., Chad Everett, Celeste Holm, Sherman Hemsley, James Farentino, Tony Epper, Michael Clarke Duncan, Russell Means, Warren Stevens, Frank Cady, Charles Durning, Yvette Wilson, William Windom, Davy Jones, Kathryn Joosten, Phyllis Diller, Richard Dawson, Dick Clark, Andy Griffith and Ernest Borgnine
Alfred Molina and Sigourney Weaver are cast together as the presenters for Outstanding Performance by an Ensemble in a Drama Series. And the cast getting the Actor is the ensemble of Downton Abbey.
"We are so not expecting this. Oh! Shut the French windows, honestly. Oh!" – Phyllis Logan
Sally Field and Daniel Day-Lewis take out their glasses to read the intro for the ensemble nominated Lincoln.
Robert De Niro is presenting the Actor for Outstanding Performance by a Female Actor in a Leading Role. And the Actor goes to a surprised Jennifer Lawrence for Silver Linings Playbook.
"I want to thank MTV. I'll explain that. I earned my SAG card when I was 14. I did an MTV promo for My Super Sweet 16. And I remember getting it in the mail and it being the best day of my entire life, because it officially made me a professional actor, which put me in the category with all of you. And now I have this naked statue that means that some of you even voted for me. And that is an undescribable [sic] feeling." – Jennifer Lawrence
Viola Davis, is presenting Outstanding Performance by a Male Actor in a Leading Role. And the Actor goes to Daniel Day-Lewis for Lincoln. His fellow nominees smile graciously. He gives a shout out to Joaquin Phoenix, who wasn't even nominated for The Master.
"…when I was prowling around the idea and wondering whether I could take the risk of doing it, for some reason the guiding principle of the Hippocratic Oath kept nagging at me: First do no harm. And with that modest but important ambition, I set out. And then it occurred to me that it was an actor that murdered Abraham Lincoln. And therefore somehow it's only fitting that every now and then an actor tries to bring him back to life again." – Daniel Day-Lewis
And now it's time for tonight's final award, Outstanding Performance by a Cast in a Motion Picture, presented by Jude Law. And the Actor goes to the cast of Argo. Actor/director Ben Affleck talks on behalf of the cast.
"The people you see on stage, we had more than a hundred and fifty actors. They spoke in English, they spoke in Farsi, and the one thing that they had in common was that they came to work every single day, whether they had a line or a look to somebody, or two lines or 10 lines, or a bunch of stuff I couldn't understand in Farsi, and they wanted to 'kill' it to make the movie better. Because that's what actors do all over the world, every day. God bless you. Thank you so much for making the movies that you make, and the television you make, and the theater you make. We are in your debt. Thank you. God bless you." – Ben Affleck
And with that Jude Law bids us all a good night as the 19th Annual Screen Actors Guild Awards come to an end.