7th Annual Screen Actors Guild Awards Results and Commentary (2001)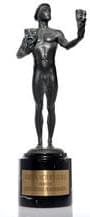 Actor Statuette
©2005 SAG
Date of Ceremony: Sunday, March 11, 2001
For performances seen in: 2000
The 7th Annual Screen Actors Guild Awards had a theme of "Classic Hollywood" when they were presented at the Shrine on Sunday, March 11, 2001.
Traffic took home the Outstanding Performance by a Cast in a Motion Picture. In fact it was a double whammy for Steven Soderbergh-directed performances as Benicio Del Toro's Traffic performance earned him Male Actor in a Leading Role, while Julia Roberts went home with Female Actor in a Leading Role for Erin Brockovich.
On the TV side, top winners included The West Wing and Will & Grace.
Whoopi Goldberg presented the Life Achievement Award to husband and wife Ossie Davis and Ruby Dee. Famous as much for their civil rights as for their careers, the pair eloquently spoke of how actors were artists, workers, image makers and peacemakers.
"We are artists also, and workers above all. We are image makers. Why can't we image makers become peacemakers, too. Why cannot we, in such a time as this, use all the magic of our vaunted powers to lift the pistol from the schoolboy's backpack? 
And replace it with bright images of peace, with images of hope and faith in humankind. Of life lit by some large vision of goodness and beauty and truth?" – Ruby Dee
Results
Outstanding Performance by a Cast in a Motion Picture
Traffic
Steven Bauer, Benjamin Bratt, James Brolin, Don Cheadle, Erika Christensen, Clifton Collins Jr., Benicio Del Toro, Michael Douglas, Miguel Ferrer, Albert Finney, Topher Grace, Luis Guzman, Amy Irving, Tomas Milian, D.W. Moffett, Dennis Quaid, Peter Reigert, Jacob Vargas and Catherine Zeta-Jones
Outstanding Performance by a Male Actor in a Leading Role
Outstanding Performance by a Female Actor in a Leading Role
Outstanding Performance by a Male Actor in a Supporting Role
Erin Brockovich
Albert Finney
Outstanding Performance by a Female Actor in a Supporting Role
Outstanding Performance by an Ensemble in a Drama Series
The West Wing
Dulé Hill, Allison Janney, Moira Kelly, Rob Lowe, Janel Moloney, Richard Schiff, Martin Sheen, John Spencer and Bradley Whitford
Outstanding Performance by a Male Actor in a Drama Series
The West Wing
Martin Sheen
Outstanding Performance by a Female Actor in a Drama Series
The West Wing
Allison Janney
Outstanding Performance by an Ensemble in a Comedy Series
Will & Grace
Sean Hayes, Eric McCormack, Debra Messing and Megan Mullally
Outstanding Performance by a Male Actor in a Comedy Series
Outstanding Performance by a Female Actor in a Comedy Series
Outstanding Performance by a Male Actor in a Television Movie or Miniseries
Arthur Miller's Death of a Salesman
Brian Dennehy
Outstanding Performance by a Female Actor in a Television Movie or Miniseries
If These Walls Could Talk 2
Vanessa Redgrave
37th Life Achievement Award