Amanda Peet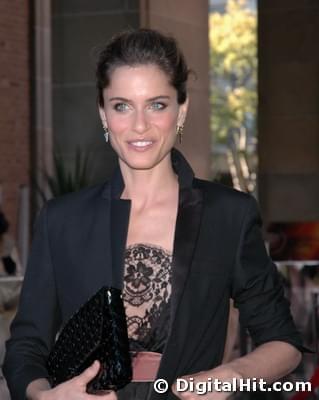 Check out our Amanda Peet photo gallery.
Born: Jan. 11, 1972 New York, New York, USA
[Please note that we are recovering from a bad database backup and some of our bio entries might be a bit stale. We are baking up a fresh batch as soon as possible.]
Amanda Peet was born on January 11th, 1972 in New York, New York. Even though Peet was born into a Quaker upbringing, she found her true calling as an actor and pursued theatre by taking Uta Hagen's class in her junior year at Columbia University, where she earned a degree in American history.
Peet landed commercials and performed in the Off-Broadway production of Awake and Sing before landing a role on the soap One Life to Live. In 1995, she played a Patty Hearst-type victim/criminal in a couple of Law & Order episodes. The next year, she was seen in She's the One with Jennifer Aniston and One Fine Day which starred George Clooney and Michelle Pfeiffer.
In 1997, Peet was seen in Sax and Violins, Grind (which had sat on a shelf since '94) and Touch Me and the next year was in Playing By Heart. A busy 1999 saw Amanda in Two Ninas, Body Shots and landing the lead in the television show Jack and Jill, which ran until 2001.
In 2000, having gained more popularity, she starred opposite Bette Midler in Isn't She Great, the Jacqueline Suzanne biopic, and worked with Matthew Perry and Bruce Willis in The Whole Nine Yards. The next year, she played opposite Jason Biggs and Jack Black in Saving Silverman. In 2002, audiences saw Peet in High Crimes, Changing Lanes with Ben Affleck and Samuel L. Jackson and Igby Goes Down opposite Ryan Phillipe and Keiran Culkin.
In 2003, she was cast in an ensemble role in the thriller Identity with John Cusack and played the girlfriend of Jack Nicholson and daughter of Diane Keaton in Something's Gotta Give, which also starred Keanu Reeves. She reprised her role opposite Mathew Perry in The Whole Ten Yards in 2004.
2005 saw Peet in the romantic comedy A Lot Like Love and the suspense film Syriana with Matt Damon and George Clooney. She headed back to TV again in 2006, working with Matthew Perry and Bradley Whitford in the short-lived, critically-savaged Studio 60 on the Sunset Strip. She followed that with The Ex with Zach Braff and Jason Bateman and Martian Child starring John Cusack.
In 2008, Amanda appeared in $5 a Day with Christopher Walken and Sharon Stone, The X Files: I Want to Believe with David Duchovny and Gillian Anderson and What Doesn't Kill You with Mark Ruffalo and Ethan Hawke.
2009 saw Peet once again opposite John Cusack, this time in the massive action film 2012.
As time progresses, we'll have more info about Amanda Peet here. If you have any comments or suggestions about our coverage, please email us.