2nd Annual Screen Actors Guild Awards Results and Commentary (1996)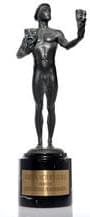 Actor Statuette
©2005 SAG
Date of Ceremony: Saturday, February 24, 1996
For performances seen in: 1995
On February 24, 1996, stars gathered at the Santa Monica Civic Auditorium for the 2nd Annual Screen Actors Guild Awards®, which aired live on NBC.
Apollo 13 took home the new Outstanding Performance by a Cast in a Motion Picture award, while Nicolas Cage and Susan Sarandon took home the top film acting awards.
On the TV side, ER and Friends went home with the ensemble awards.
Tom Skerritt presented Robert Redford with the Guild's Life Achievement Award.
Results
Outstanding Performance by a Cast in a Motion Picture
Outstanding Performance by a Male Actor in a Leading Role
Outstanding Performance by a Female Actor in a Leading Role
Dead Man Walking
Susan Sarandon
Outstanding Performance by a Male Actor in a Supporting Role
Outstanding Performance by a Female Actor in a Supporting Role
Outstanding Performance by an Ensemble in a Drama Series
E.R.
George Clooney, Anthony Edwards, Julianna Margulies, Gloria Reuben, Eriq LaSalle, Sherry Stringfield and Noah Wyle
Outstanding Performance by a Male Actor in a Drama Series
Outstanding Performance by a Female Actor in a Drama Series
Outstanding Performance by an Ensemble in a Comedy Series
Outstanding Performance by a Male Actor in a Comedy Series
Frasier
David Hyde Pierce
Outstanding Performance by a Female Actor in a Comedy Series
Cybill
Christine Baranski
Outstanding Performance by a Male Actor in a Television Movie or Miniseries
Outstanding Performance by a Female Actor in a Television Movie or Miniseries
The Piano Lesson, Hallmark Hall of Fame
Alfre Woodard
32nd Life Achievement Award