34th Toronto International Film Festival Coverage: Day One
Day one of the 34th Toronto International Film Festival has been put to bed and that's where we're heading soon too.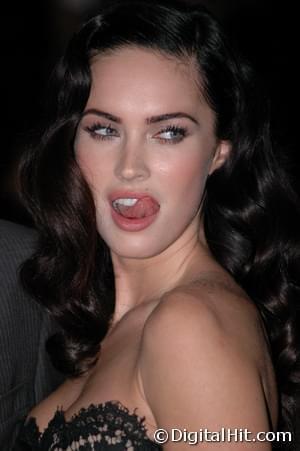 Megan Fox
, sticks her tongue out for photographers at the Toronto International Film Festival premiere of
Jennifer's Body
. ©2009 DigitalHit.com. Photographer:Christine Lambert All rights reserved.
The opening night of the Festival was a busy one for us. We covered the Opening Night film, Creation, as well as premieres for Antichrist, An Education and Jennifer's Body.
Creation, starring real-life husband and wife Paul Bettany and Jennifer Connelly, traces the writing and publication of Charles Darwin's On the Origin of Species. After the death of their daughter, Darwin and his wife Emma find themselves at a crossroads. The death has brought more faith into the life of Emma, while Darwin's theories on evolution have him doubting the existence of God. At his friends' insistence, he pushes ahead with his manuscript.
The fans and press at the premiere were shouting for Paul and Jennifer, but the real treat was one of the guests that director Jon Amiel had with him: Randal Keynes, Darwin's great-great grandson.
The premiere for An Education, a British coming-of-age film, welcomed director Lone Scherfig, writer Nick Hornby, and cast members Carey Mulligan, Peter Sarsgaard, Dominic Cooper, and Alfred Molina. The film comes to Toronto after a positive critical reception at the Sundance Film Festival. Carey Mulligan, who's been getting a lot of buzz about her acting chops, plays a British student who discovers that the older man she's been having a relationship with has a hidden life and then works to not fulfill the dreary life some have predicted for her.
Antichrist, the latest from director Lars von Trier, stars Willem Dafoe and Charlotte Gainsbourg. Criticized by some for its explicit sexual violence and praised by others for its serious themes and stunning visuals, Antichrist had its premiere at the Cannes Film Festival, where Gainsbourg won Best Actress.
The craziest part of the night had to be the red carpet for the first film in the Midnight Madness section: Jennifer's Body with Megan Fox and Amanda Seyfriend. The carpet was packed and trying to get a shot off was like trying to herd cats. The film was written by Juno's Diablo Cody.
Don't forget to check out our photos.
TIFF Day One Photo Galleries