Dominic Cooper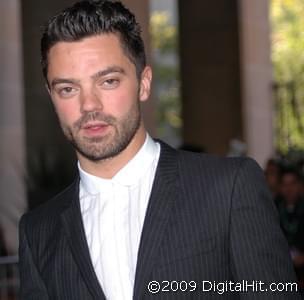 Check out our Dominic Cooper photo gallery.
Born: June 2, 1978 Greenwich, England, UK
[Please note that we are recovering from a bad database backup and some of our bio entries might be a bit stale. We are baking up a fresh batch as soon as possible.]
Dominic Cooper was born on June 2nd, 1978 in Greenwich, London, England and studied acting at the London Academy of Music and Dramatic Art.
2001 marked his small and big screen debuts with roles in the films Anazapta and From Hell (with Johnny Depp and Heather Graham) and the mini-series The Infinite Worlds of H.G. Wells. The following year, he was seen in The Final Curtain starring Peter O'Toole and in 2003 appeared in I'll Be There with Craig Ferguson and Charlotte Church and Boudica with Emily Blunt and Alex Kingston. In 2005, Dominic was seen in Breakfast on Pluto with Cillian Murphy and Liam Neeson and followed that with 2006's Starter for 10 with James McAvoy and The History Boys.
2008 was a busy year for Cooper. He was seen in the TV mini-series Sense & Sensibility with Janet McTeer and Hattie Morahan, and the films The Escapist with Joseph Fiennes and Brian Cox, Mamma Mia! with Amanda Seyfried and Meryl Streep, Official Selection (again with Seyfried) and The Duchess starring Keira Knightley and Ralph Fiennes.
In 2009, he was seen in An Education with Peter Sarsgaard and Carey Mulligan and Brief Interviews with Hideous Men with Timothy Hutton and Max Minghella.
On the personal side, Cooper is the boyfriend of Mamma Mia! Co-star Amanda Seyfried.
As time progresses, we'll have more info about Dominic Cooper here. If you have any comments or suggestions about our coverage, please email us.