Entertainment News
Jojo Rabbit director will also co-write.
Movie will be available to rent or buy.
Movie Profiles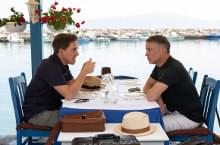 Recent Evans Above
Emma Blu-ray review: Jane Austen's books have had numerous adaptations and director Autumn de Wilde...
Dolittle 4K Blu-ray review: Learning to talk to the animals is easy compared to dealing with...
Star Wars: Episode IX - The Rise of Skywalker Blu-ray review: In my theatrical review of Star Wars: Episode IX – The...
Read Evans Above...
Top DVDs
Content temporarily unavailable.
Current Poll
We're sorry, this poll is now closed. Would you like to see the results?
Countdowns
236 days until the 27th Screen Actors Guild Awards ceremony.
271 days until the 93rd Oscar ceremony.