Antonio Banderas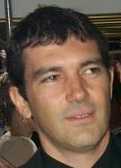 Check out our Antonio Banderas photo gallery.
Born: Aug. 10, 1960 Málaga, Spain
[Please note that we are recovering from a bad database backup and some of our bio entries might be a bit stale. We are baking up a fresh batch as soon as possible.]
When Antonio Banderas first came to the attention of North American audiences in 1992's The Mambo Kings, it was easy to tag him as a hot new Latin star. Those in the audience who also watched foreign-language films would have realized that the talented and handsome actor actually had a career that was already ten years old and was comprised of over twenty films.
He was born José Antonio Domínguez Banderas on the 10th of August 1960 in Málaga, Spain. He had ambitions to be a soccer player but a foot injury ended that dream. Antonio enrolled in drama classes and eventually set out with some other young actors in a small troupe which gave street performances all over Spain.
After honing his chops on the streets, Banderas auditioned for, and won, a spot in the ensemble of the National Theater of Spain. One night his performance caught the eye of a young film director named Pedro Almodóvar. Almodóvar was one of the most outlandish and courageous filmmakers that came out of the period that bloomed after the regime of the dictator Franco had ended. Banderas and the wild director made a string of movies which started with the sex farce Labyrinth of Passion in 1982. Antonio also worked with other noted Spanish directors in this period, including Lluis Josep Comerón and José Luis García Sánchez. It was Almodóvar's 1988 flick Women on the Verge of a Nervous Breakdown that brought Antonio to the attention of internation audiences; the film did quite well in North America. Not afraid to make wild films, Banderas' final film with Pedro before the U.S. beckoned, Tie Me Up, Tie Me Down!, cast him as a mental patient who kidnaps a porn-star and ties her down until she returns his love.
Some people thought American director Arne Glimcher' should have been tied down when he cast the Spanish actor in the screen adaptation of the Pulitzer Prize-winning novel The Mambo Kings Sing Songs of Love. At the time, Banderas' could not speak English and had to learn the script phonetically. Despite that obstacle, Antonio was considered one of the highlights of the film. He threw himself into learning English and was next seen in the States in Jonathan Demme's Philadelphia, where he played Tom Hank's lover.
His U.S. acting career firmly established, Banderas appeared in a string of films including The House of the Spirits (with Meryl Streep and Glenn Close), Interview With the Vampire (with Brad Pitt and Tom Cruise), Desperado (with Salma Hayek) and Sylvester Stallone's action flick Assassins.
Audiences found Banderas to be very intriguing. Though he filled the stereotype of the smoldering Spanish lover, he was also able to be comedic and self-deprecating. In fact, it was during the shooting of 1996's Two Much that Antonio and his co-star Melanie Griffith began to find each other intriguing. He divorced his wife of eight years and the new Hollywood couple were married that year.
In 1997 Banderas appeared opposite Madonna (who lusted after him in Truth or Dare]) in the musical Evita. 1998 saw him both direct (Crazy in Alabama) and act (The Mask of Zorro). Following his big action hit, The Mask of Zorro, which co-starred Anthony Hopkins and Catherine Zeta-Jones, Banderas again indulged in swordplay in The 13th Warrior.
Antonio followed that with the boxing comedy Play It to the Bone opposite Woody Harrelson.
In 2000, he appeared in the religious drama The Body. 2001 saw him teamed again with Desperado director Robert Rodriguez for the family hit Spy Kids. He followed the family comedy with a role opposite Angelina Jolie in the steamy Original Sin. He reversed the process in 2002 by shooting Brian De Palma's Femme Fatale with Rebecca Romijn and teamed with Rodriguez for the summer comedy Spy Kids 2: The Island of Lost Dreams. That year also saw him opposite Salma Hayek in Frida and Lucy Liu in Ballistic: Ecks vs. Sever.
Antonio kept himself busy in 2003 as well, appearing in Spy Kids 3-D: Game Over, Once Upon a Time in Mexico (with Salma Hayek and Johnny Depp), the TV movie And Starring Pancho Villa as Himself and Imagining Argentina. In 2004, he voiced Puss In Boots in Shrek 2.
He picked up a sword again in 2005's The Legend of Zorro and put on dance shoes for 2006's Take the Lead, a year that also saw him work with Jennifer Lopez in Bordertown.
In 2007, he again voiced Puss in Boots in the movie Shrek the Third and the TV special Shrek the Halls. The following year, Antonio appeared in Homeland Security with Meg Ryan and Colin Hanks and The Other Man opposite Laura Linney and Liam Neeson.
He worked with Morgan Freeman in 2009's Thick as Thieves. A busy 2010 saw Antonio voicing the boot-wearing feline again in Shrek Forever After (and two shorts) as well as appearing in Woody Allen's You Will Meet a Tall Dark Stranger with Anthony Hopkins, Naomi Watts and Josh Brolin. He also starred in The Big Bang with Thomas Kretschmann and William Fichtner.
The following year, Banderas reteamed with director Pedro Almodóvar for The Skin I Live In. He was the lead voice in Puss in Boots with Salma Hayek and Zach Galifianakis, worked with Freida Pinto, Tahar Rahim and Mark Strong on Day of the Falcon, and worked opposite Ewan McGregor and Michael Fassbender in Steven Soderbergh's Haywire.
In 2012, Banderas and Melanie Griffith did a pilot for a TV series, This American Housewife, which wasn't picked up. He also starred with Paul Dano, Zoe Kazan and Annette Bening in Ruby Sparks. He worked with Pedro Almodóvar again in I'm So Excited!, voiced Sir Clorex in Justin and the Knights of Valour, and worked with Danny Trejo, Mel Gibson, and Charlie Sheen on Robert Rodriguez' Machete Kills.
He joined the action star-filled cast of The Expendables 3 in 2014 and worked with Melanie Griffith and Dylan McDermott on Autómata. That same year, he and Griffith began divorce proceedings.
Banderas' 2015 included The SpongeBob Movie: Sponge Out of Water and Knight of Cups with Cate Blanchett, Christian Bale and Natalie Portman.
As time progresses, we'll have more info about Antonio Banderas here. If you have any comments or suggestions about our coverage, please email us.