Bruce Greenwood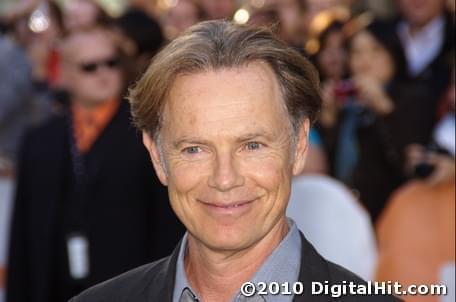 Check out our Bruce Greenwood photo gallery.
Born: Aug. 12, 1956 Noranda, Québec, Canada
[Please note that we are recovering from a bad database backup and some of our bio entries might be a bit stale. We are baking up a fresh batch as soon as possible.]
Stuart Bruce Greenwood was born on August 12, 1956 in Noranda, Québec, Canada.
Bruce had a couple of appearances on the iconic Canadian TV series The Beachcombers, starting in 1977. He had his film debut in 1979 working on Bear Island with Donald Sutherland. In 1980, he studied for a year at the American Academy of Dramatic Arts in New York City. Two years later, in 1982, he appeared in First Blood with Sylvester Stallone.
In 1984, he appeared in six episodes of the series Legmen with John Terlesky and two episodes of the series Jessie. The following year, Greenwood worked on the TV movies Peyton Place: The Next Generation with Dorothy Malone and Striker's Mountain with Leslie Nielsen and August Schellenberg. In 1986, he appeared in The Climb with Denis Forest and Tom Butler, The Malibu Bikini Shop with Michael David Wright, and two episodes of the Canadian series Danger Bay with Donnelly Rhodes. That same year, he also began a forty-five episode stint on the series St. Elsewhere with Denzel Washington, William Daniels and Ronny Cox.
He worked with Joe Pantoliano on the 1987 TV movie Destination America and with Michael Gross and David Soul on 1988's In the Line of Duty: The F.B.I. Murders, a TV movie about the 1986 FBI Miami shootout. A busy 1989 saw him in Another Chance with Vanessa Angel, the TV movie Perry Mason: The Case of the All-Star Assassin with Raymond Burr, Wild Orchid with Mickey Rourke and Carré Otis and the TV movie Spy with Jameson Parker.
In 1990, Greenwood played drummer Dennis Wilson in the TV movie Summer Dreams: The Story of the Beach Boys opposite Greg Kean and then worked with Charlton Heston on the TV movie The Little Kidnappers. The following year, he appeared with Jessica Steen in the TV movie The Great Pretender, appeared in Servants of Twilight with Belinda Bauer and the TV movie Perfect Crimes with Lisa Hartman and Dennis Farina. He also began a twenty-two episode stint on the series Knots Landing opposite Michele Lee, Ted Shackelford and Joan Van Ark.
He appeared in 1992's Passenger 57 starring Wesley Snipes and in 1993 appeared in three TV movies: Rio Diablo with country legends Kenny Rogers, Travis Tritt and Naomi Judd, Adrift with Kate Jackson and Kenneth Welsh and played Fred Schultz in Woman on Trial: The Lawrencia Bembenek Story opposite Tatum O'Neal.
In a very busy 1994, he appeared in nine episodes of the sitcom Hardball with Alexandra Wentworth, worked with Ann Jillian on the TV movie Heart of a Child, worked on Atom Egoyan's movie Exotica with Mia Kirshner, appeared in the Bitter Vengeance TV Movie with Virginia Madsen, worked on Paint Cans with Martha Burns, the TV movie Treacherous Beauties with Emma Samms and Catherine Oxenberg and the TV movie The Companion with Kathryn Harrold. The following year was just as busy as he played Larry Strickland in the TV movie Naomi & Wynonna: Love Can Build a Bridge opposite Kathleen York and Viveka Davis, worked with Lisa Hartman, Cliff Robertson and James Farentino on the TV movie Dazzle, appeared with Gabrielle Carteris and Scott Baio in the TV movie Mixed Blessings and had a twenty-five episode run on the series Nowhere Man with Megan Gallagher.
Greenwood kept his agent busy again in 1997, working on the TV movies Tell Me No Secrets (with Lori Loughlin) and The Absolute Truth (with Jane Seymour) and appearing in the films Fathers' Day starring Robin Williams and Billy Crystal and The Sweet Hereafter with Ian Holm and Sarah Polley. He also found time to appear on The Larry Sanders Show with Garry Shandling and work with Naomi Watts on the series Sleepwalkers.
A slightly slower 1998 saw him in Disturbing Behavior with James Marsden, Katie Holmes and Nick Stahl and the TV movie The Color of Courage with Linda Hamilton and Lynn Whitfield. In 1999, he appeared with Alec Baldwin in Thick as Thieves, appeared in The Lost Son starring Daniel Auteuil and Nastassja Kinski, played opposite Ashley Judd and Tommy Lee Jones in Double Jeopardy and worked on the TV movie The Soul Collector with Melissa Gilbert and Ossie Davis.
The year 2000 arrived and Greenwood was seen in Here on Earth with Chris Klein and Leelee Sobieski, Rules of Engagement starring Tommy Lee Jones and Samuel L. Jackson and Thirteen Days starring Kevin Costner. The following year, he worked on the TV movie A Girl Thing with Kate Capshaw, Stockard Channing and Rebecca De Mornay and the Haven TV movie opposite Natasha Richardson and Colm Feore.
In 2002, he appeared in the TV movie The Magnificent Ambersons with Madeleine Stowe and Jonathan Rhys Meyers, reteamed with Atom Egoyan for Ararat starring David Alpay, survived the film fiasco Swept Away with Madonna and worked on Below with Matthew Davis. The following year, he appeared in The Core starring Aaron Eckhart and Hilary Swank, Hollywood Homicide with Harrison Ford and Josh Hartnett and The Republic of Love with Kate Lynch.
Still keeping busy, Bruce made the 2004 TV movie Meltdown with Leslie Hope, played an evil executive in I, Robot starring Will Smith, appeared in Being Julia with Annette Bening, did the TV movie The Life with Brian Markinson and played Robert Keppel in the TV movie The Riverman opposite Cary Elwes' portrayal of Ted Bundy.
A year later, he worked on Racing Stripes opposite Frankie Muniz and David Spade, the TV movie Saving Milly with Madeleine Stowe and Robert Wisden, Mee-Shee: The Water Giant with Daniel Magder and Rena Owen, appeared in Capote starring Philip Seymour Hoffman and The World's Fastest Indian with Anthony Hopkins.
In 2006, he appeared in Eight Below with Paul Walker, the TV movie The Mermaid Chair with Kim Basinger and Deja Vu alongside Denzel Washington. He also played Chiron on fourteen episodes of Class of the Titans. He followed that with 2007's Firehouse Dog with Josh Hutcherson, nine episodes of the series John from Cincinnati with Rebecca De Mornay, I'm Not There with Christian Bale, Cate Blanchett and Heath Ledger and the Nicolas Cage action flick National Treasure: Book of Secrets.
In 2009, he played Captain Christopher Pike in the feature Star Trek opposite Chris Pine, Zachary Quinto and Simon Pegg, appeared in Mao's Last Dancer with Kyle MacLachlan and the TV movie A Dog Named Christmas with Linda Emond. 2010 saw Greenwood work on Barney's Version with Paul Giamatti, Dinner for Schmucks along with Steve Carell and Paul Rudd and Meek's Cutoff with Michelle Williams.
2011 found Bruce in Super 8 with Elle Fanning, AJ Michalka and Kyle Chandler, Cell 213 with Eric Balfour and Donovan's Echo with Danny Glover. The following year, he appeared in eight episodes of the series The River with Joe Anderson and Leslie Hope, worked on For Greater Glory: The True Story of Cristiada starring Andy Garcia, appeared in The Place Beyond the Pines starring Ryan Gosling, Bradley Cooper and Eva Mendes, and reteamed with his former St. Elsewhere co-star Denzel Washington on Flight.
In 2013, he worked with Joanne Whalley and William Hurt on The Challenger TV movie, appeared with Parker Posey in And Now a Word from Our Sponsor, headed to space again for Star Trek Into Darkness, worked again with Atom Egoyan on Devil's Knot starring Colin Firth and Reese Witherspoon, appeared in Lost Luck with Nick Zano and Maksim Chmerkovskiy and made the Westside TV movie with Jennifer Beals.
Still not relaxing, Greenwood's 2014 saw him in Endless Love with Gabriella Wilde and Alex Pettyfer, The Captive with Ryan Reynolds and Scott Speedman, Good Kill with Ethan Hawke, Elephant Song with Catherine Keener and Wildlike with Brian Geraghty. In 2015, he appeared in several episodes of the final season of Mad Men with Jon Hamm.
As time progresses, we'll have more info about Bruce Greenwood here. If you have any comments or suggestions about our coverage, please email us.