14th Annual Screen Actors Guild Awards Results and Commentary (2008)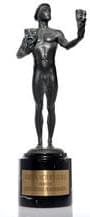 Actor Statuette
©2005 SAG
Date of Ceremony: Sunday, January 27, 2008
For performances seen in: 2007
Welcome to DigitalHit.com's coverage of the 14th Annual SAG Awards.
8:00 PM
Eight Actors talk about their journeys as actors: Doug Savant, Sandra Oh, Kyle MacLachlan, Ellen Burstyn, Rebecca Romijn, Sally Field, Tracy Morgan and Jane Krakowski.
8:04 PM
Tina Fey and Steve Carell are the evening's first presenters. Carell points out that it's the Guild's Diamond Jubilee. The comedic duo are presenting Male Actor in a Drama Series. And the Actor goes to James Gandolfini.
"I didn't know it was the first award. Man, this is kind of freaky. This is our last, of The Sopranos, our last official act as The Sopranos together. So, here's to you guys. Thank you very much. It's been ten years, it's an honor. That's all I can say. Thank you. Thank you for this. Appreciate it." – James Gandolfini
8:07 PM
Presenting the first clip for the Motion Picture Ensemble award are John Travolta and Nikki Blonsky, the co-stars of Hairspray.
8:08 PM
Zac Efron and Debra Messing have been given the role of presenting the Actor for Female Actor in a Drama Series. And the Actor goes to Edie Falco, so the leads of The Sopranos sweep.
"Yes, ten years I wish for — everybody in every walk of life — but particularly for actors — to have an opportunity to have a work experience like I have had, with my family here. You're not supposed to get this attached because it's a transient business. But I have fallen in love with these people and I don't know how you walk away from that." – Edie Falco
8:12 PM
Time flies, we're already a quarter of an hour in and we've got a break. The actors move around the auditorium during the commercials.
8:17 PM
Blair Underwood shows some clips while discussing the creation of the Screen Actors Guild.
8:19 PM
Moving right along, Vanessa Williams and William Petersen present the SAG Award for Ensemble in a Drama Series. And the Actor goes to the cast of The Sopranos, a sweep of the TV Drama category.
"I'm really not good at this, but we'll give it a shot. To the Screen Actors Guild members, thank you. Thank you from the bottom of our hearts. We
work real hard on this show and what a helluva way to go. We're all honored, we're all humbled, and we're all happy." – Tony Sirico
8:24 PM
Into the Wild co-stars Hal Halbrook and Emile Hirsch present a clip for their Ensemble nominated film.
8:29 PM
We've lost power back in the media room, so we don't know what's happening. Tonight's fourth award, Male Actor in a Supporting Role, is presented by La Vie en Rose star Marion Cotillard.
We're still without power back here, so someone runs in to tell us Javier Bardem has won.
"I want to share this with my very good friend, Josh Brolin and Tommy Lee, and Kelly Macdonald, and with a great cast of No Country For Old Men.
And to dedicate it to the Coen Brothers who ultimately are responsible for all of this. Thank you guys for hiring me, and thank you for taking the hard work of choosing the good takes, instead of the ones that I was really — I mean, where I really sucked." – Javier Bardem
8:40 PM
If you've ever wondered what a press room full of thumb-twiddlers looks like, just ask me.
8:41 PM
Chandra Wilson and Eric Dane team up to present the SAG Award for Female Actor in a Comedy Series, according to the person who runs into the room, the winner was Tina Fey. If only we had power…
"I thank anyone in the Screen Actors Guild for considering me an actor at all. And I share this with everyone in our ensemble; it takes a lot of people to make me look like a good actor. And specifically, I really want to thank my most frequent scene partner, Alec Baldwin. If you've seen me on the show with Alec Baldwin, then you know it's sort of like watching Fred Astaire dance with a hat rack. And after a while, you're like, "Oh, that hat rack is pretty good, too." So, you've given an award to the hat rack, and I thank you." – Tina Fey
8:44 PM
Techs are scrambling back here trying to get us power. The lovely Kate Beckinsale and the, let's be honest, handsome James Marsden are handing out the hardware for Male Actor in a Comedy Series. And the Actor goes to Alec Baldwin. Alas, Alec's not there. Apparently Ruby Dee is presenting the clip for the ensemble nominated American Gangster. We wouldn't know…we don't have power back here.
8:47 PM
It's time for the Ensemble in a Comedy Series Award and the presenting duties belong to Jeanne Tripplehorn and Michael C. Hall. We're told by the messenger that The Office won.
"They voted me to speak if we won, so — which we didn't expect. Thank you so much. We really love working together. We love each other, we love working together and being together. And as an ensemble, a lot of the people in this group struggled for a long time as non-working actors — and by a long time I mean, like, eight, 12, 15, 20 years. So, we're always grateful, we don't take it for granted. Thank you so much. But there's another part of our ensemble, that's our crew, and we want to dedicate this to them tonight. We can't wait to go back to work with them, so, thank you so much." – Jenna Fischer
8:51 PM
Okay, the power's back. The cast of The Sopranos is back here in the press room. They're laughing and hugging and basically ignoring any questions.
8:53 PM
SAG President Alan Rosenberg says a few words. Meanwhile back here, the Sopranos continue to ridicule the press.
8:56 PM
Denis Leary begins the tribute to Charles Durning, this year's Lifetime Acheivement recipient.
9:04 PM
Burt Reynolds now comes out to present the award to Durning, who Reynolds calls a combination of his father and big brother. Durning then goes up to accept.
"That's it? My thanks to the Screen Actors Guild. There's nothing more gratifying than having an Achievement Award from one's peers. Over 50 years
ago, I had the honor of working with some of the best actors, directors, and writers in our industry. It's been a dream come true. A dream that began when I watched the movies of the great character actors of my time. Actors like: Claude Rains, Lee J. Cobb, Frank Morgan, and King Kong. And it's impossible to thank all of the people who so gratefully wanted me to do what they wanted me to do. But I do want to mention my three children, who I love dearly, and my wife, Mary Ann, who has said on many occasions, when I said I was ready to quit, "Yeah? And then what?" You know, when someone asked the great character, Sir Ralph Richardson, how he did what he did at age 83, and he replied, "I don't know, I'm just getting the hang of it." And that's how I feel, I'm just getting the hang of it. Now I no longer chase my dreams — raised my sights a little, maybe. But tonight thanks to all of you, I am living my dream. Thank you so much for this
honor." – Charles Durning
Tina Fey drops by the press room, saying that she's been writing so long it's nice to be recognized as an actor.
9:15 PM
Holly Hunter and James Spader take to the stage next to present Male Actor in a TV Movie or Miniseries. And the Actor goes to Kevin Kline. Mr. Kline is not in attendance.
9:17 PM
Ben Foster introduces an Ensemble clip for 3:10 to Yuma.
9:19 PM
The legendary Mickey Rooney is presenting Female Actor in a TV Movie or Miniseries. And the Actor goes to Queen Latifah, who's not in the audience this evening.
9:24 PM
Josh Brolin introduces this year's In Memoriam segment.
9:34 PM
Blair Underwood discusses more of the Guild's history.
9:35 PM
Viggo Mortensen works solo to present Female Actor in a Supporting Role. And the Actor goes to Ruby Dee for American Gangster.
"Well, this is my first time holding one of these boys. Well, what an exciting time to be an actor, in the first place, and also to be in such a film as American Gangster. And working with my good friend, Denzel, and with the people I'm seated with here now, like Cuba Gooding, Jr., who's here with me now. And I saw so many in the company — Roger Guenveur Smith — anyway, and Russell Crowe, and also to work with a director like Ridley Scott. In a film that took place where I was born, with some of the very streets, as part of the picture. And I found that intriguing… It reminded me of all the things that happened in that time. And the realities that informed that film were astonishing." – Ruby Dee
9:40 PM
Tommy Lee Jones intros the clip for No Country for Old Men.
9:48 PM
Fool's Gold co-stars Kate Hudson and Matthew McConaughey present the Actor for Male Actor in a Leading Role. And the Actor goes to Daniel Day-Lewis for his role in There Will Be Blood.
"You know, for as long as I can remember, the thing that gave me a sense of wonderment, of renewal, the thing that teased me with the question, how is such a thing possible, and then dare you to go back into the arena of one more time, with longing and self-doubt, jostling in the balance, it's always been the work of other actors. And there are many actors in this room tonight, including my fellow nominees, who have given that sense of regeneration and…Heath Ledger gave it to me. In Monster's Ball, that character that he created, it seemed to be almost like an unformed being,
retreating from themselves, retreating from his father, from his life, even retreating from us, and yet we wanted to follow him, and yet we're scared to follow him almost. It was unique. And then, of course, in Brokeback Mountain, he was unique, he was perfect. And that scene in the trailer at the end of the film is as moving as anything that I think I've ever seen. And I'd like to dedicate this to Heath Ledger." – Daniel Day-Lewis
9:53 PM
The very talented Forest Whitaker presents Female Actor in a Leading Role. And the Actor goes to Julie Christie for Away from Her.
"I'd like to share this with many people, my fellow actors, Gordon, Olympia, Michael, the whole cast of our film, all of whom were so brilliant, down to the tiniest one. Our three producers, Jennifer, Danny, Simone, our cool Canadian crew — it did snow a lot… Oh, my acting coach, brilliant Australian, Lindy Davies. And, of course, I mustn't forget Adam, from Lionsgate, who more or less pushed me up onto this stage, which is a minor miracle. But, of course, the person who this really belongs to is the divine Sarah — Sarah Polley. Our writer and director. Sarah, without your tenacious direction, and the beautiful words you put into my mouth, in the dialogue, I wouldn't be holding this here. So, this really does belong to you, and I might allow you a "little" peek. And if I've forgotten anybody, well, it's just that I'm still in character." – Julie Christie
9:58 PM
Tom Cruise presents Outstanding Performance by a Cast in a Motion Picture. And the Actor goes to the cast of No Country for Old Men. Josh Brolin speaks on behalf of the cast.
"This is Javier Bardem's 497th award. It's sad. It's sad for the rest of us. I'd like to say, thank you, this was a very big cast and there's very few of us up here. And like Tess says, there were 47 people in this cast, each and every one making this the movie that it has become. And it is a risky movie, and it's nice to have risky movies now, you know? Especially this year, I think it's a cornucopia of change, and it's about story now. And the studio system is backfiring, awfully, and it's fun for us actors. So, I'd like to say thank you to SAG." – Josh Brolin
10:16 PM
We're joined backstage by Daniel Day-Lewis. He talks some more about Heath Ledger and wishes the press would stop poring over all the details that aren't really anybody's business but the family's.
Special thanks to the beautiful O Hotel for their assistance with our coverage stay and to Freeman Formalwear for Ian Evans' tuxedo.