15th Annual Screen Actors Guild Awards Results and Commentary (2009)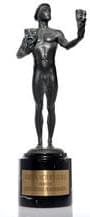 Actor Statuette
©2005 SAG
Date of Ceremony: Monday, January 26, 2009
For performances seen in: 2008
7:06 PM ET
It's a cool but sunny day here in LA as we get ready for the show to start. The live feed to the East Coast is about 54 minutes away. As per usual, I'm in a sea of penguins back here in the press room, while Christine's on the red carpet shooting the arrivals.
8:01 PM
The show opens with Will Arnett, Steve Carell, Tom Cavanagh, Jenna Fischer, Victor Garber, Anil Kapoor, Eva Longoria Parker and Phylicia Rashad telling stories about how they became actors.
8:04 PM
Our first presenters of the evening are Rosario Dawson and Kiefer Sutherland, who are presenting Outstanding Performance by a Female Actor in a Comedy Series. And the SAG Award goes to Tina Fey, who's having a great year.
"I want to thank my daughter, Alice, for being the funniest person in my family; for coining phrases like, 'I want to go to there.' And — and sometimes just putting on pretend makeup in the mirror. And she'll turn to me and say, 'I look like Barack Obama.' She has somehow gotten it in her head that it's a good thing to resemble a famous politician. I don't know where she got that idea. But it kind of is a little stroke of luck if it happens. And I want to thank Alice for her patience. And some day she'll be old enough to watch 30 Rock reruns on the Internet, and understand where mommy was going at 6 a.m. every day, for all that time. And she'll look up at me and say, 'What do you mean you don't get residuals for this?' I love you, Alice. Take care of me when I'm old and broke! Thank you." – Tina Fey
8:08 PM
From the energetic Slumdog Millionaire, Dev Patel and Freida Pinto introduce a clip of of their ensemble nominated picture.
8:09 PM
Presenting the second award of the night, Mad Men's Jon Hamm and The Closer's Kyra Sedgwick introduce the nominees for Outstanding Performance by a Male Actor in a Comedy Series. And the SAG Award goes to Alec Baldwin for his terrific work in 30 Rock.
"Thank you, and congratulations to all the other nominees. What I love about these shows is you get to see people you don't see that often anymore.
Everybody gets older and had kids and has families, and it's so nice to be able to see some old friends. And I don't know who I want to make out with more tonight, Tony Hopkins or Diane Lane — I can't decide. 'Cause Tony looks so good. He looks fantastic. Anyway, the number one people I want to thank are the other members of the cast of my show, Jane Krakowski, and Judah Friedlander, and Jack McBrayer, and everyone; there's a long list of people that I want to thank. All of the cast of the show, because we get to do this show — I get to do this show with a bunch of people — Tracy Morgan — I get to do this show with a bunch of people who are just the funniest, and sweetest people. We have a lovely family there." – Alec Baldwin
8:18 PM
The Wrestler's Evan Rachel Wood now introduces a segment on some of film and TV most important trailblazers.
8:22 PM
Actress Claire Danes is presenting the night's first ensemble award, Outstanding Performance by an Ensemble in a Comedy Series. And the SAG Award goes to the cast of one of the brightest comedies on TV, 30 Rock.
"Thank you. Tracy Morgan and I had an agreement that if the Arizona Cardinals made it into the Super Bowl, I would be speaking for the show from now on. We'd like to thank everyone in the Screen Actors Guild for voting for us. We would like to thank our friends at The Office for their generous lead-in every week. A great ensemble is — should be better than the sum of its parts, and that is definitely the case here, because some of these people are just weirdos that we picked up off the street — Jack McBrayer. We've all been lucky enough to be a part of great ensembles, on stage and on TV. And I was lucky enough to be a part of Ally McBeal for five years, but I can honestly say that this ensemble is a thousand times heavier." – Jane Krakowski
8:27 PM
Frost/Nixon's Frank Langella and Michael Sheen introduce a clip for…wait for it… Frost/Nixon.
8:28 PM
The always charming Greg Kinnear has the task of presenting this evening's Outstanding Performance by a Female Actor in a Supporting Role. And the SAG Award goes to Kate Winslet for her work on The Reader.
"Wow. What a year it has been in movies. I just want to say it's really an honor to be included in what I think is such a remarkable year. And to be acknowledged by my peers in this way, I really feel like everybody should be given a medal. I have to say that because I really believe it to be true." – *Kate
Winslet*
8:37 PM
Tonight's fifth award, Outstanding Performance by a Male Actor in a Drama Series is presented by Taye Diggs and Christina Applegate. And the SAG Award goes to Hugh Laurie. It's his second year winning the award for House.
" This is amazing. I actually had a hundred dollars on James Spader. This is just not my night. Seven years ago I was making a film in the Namibian Desert, against the advice of my agent, who was convinced that the more films you do, the harder it is to break into television. And I got a few pages of a fax — I was faxed a few pages of a script, it had no title, but I fancy that I knew instantly that this was an extraordinary character who could go the distance. That's a complete lie. I had no idea. And this is absolutely amazing to me now to look back over these last six or seven years. It's been an incredible journey, and made more incredible by my, as it were, traveling companions." – Hugh Laurie
8:42 PM
Two great comic actors, John Krasinski and Amy Poehler, pair up tonight to present Outstanding Performance by a Female Actor in a Drama Series. And the SAG Award goes to Sally Field for Brothers and Sisters.
"Oh, gosh, this is a heavy Actor. Oh, dear, I thought it would be a "cable girl." And such good actors they are. Wow. Okay, so here I am. You know, I'm so proud to be a part of Brothers & Sisters, and I have to start by thanking all of them, ABC and Disney, for supporting us. And Ken Olin and Sarah Caplan, and Monica Breen, and Jessica and Schapker for keeping the show going. And all of our fabulous writers. Our amazing crew. The actors work hard, but the crew works three times as hard, let's face it." – Sally Field
8:46 PM
Cast members James Franco, Josh Brolin and Emile Hirsch introduce a clip from the ensemble nominated Milk.
8:48 PM
Eric McCormack and Emily Blunt now share presenting duties for Outstanding Performance by an Ensemble in a Drama Series. And the SAG Award goes to Mad Men.
"Thank you. Thank you very much. When speaking for 15-some-odd people, and a half, it's hard to sort of do anything but generalize. And it's impossible to single out individuals to thank. We have our incredibly talented crew, our incredibly talented writing staff; the people at AMC who took chances on all of us in hiring us. Our dozens of viewers… But I think I could speak for everybody in thanking one particular person who really brought this show to life, it's Matt Weiner. Thank you, Matt. Without what you do, what we would do would be decidedly terrible. So, thank you very much." – Jon Hamm
8:54 PM
The lovely Kate Winslet joins us backstage now. She's had an emotional time with her recent wins and says that, "I'm so bad at this. I wish there were lessons in award season because clearly I'm still learning."
8:59 PM
We now hear from SAG President Alan Rosenberg. He mentions that a global audience is joining them and singles out the 800,000 service men and women watching at bases worldwide. He also gives a shout out to their fellow unions and guilds.
The cast of 30 Rock joins us backstage. Asked what the recognition is like, Tina Fey says it feels like an imminent tidal wave of backlash. She also goes into the residuals issue and the power of collective bargaining.
9:01 PM
Forest Whitaker now presents the Lifetime Achievement Award to the legendary James Earl Jones. SAG President Alan Rosenberg, in previously announcing the
honour, said that "James Earl Jones' distinguished career on stage, in film, on television, in commercials and as a vocal presence without peer commands our admiration and respect. His long and quiet devotion to advancing literacy, the arts and humanities on a national and local scale deserves our appreciation. It is our honor to bestow the Guild's highest tribute on this extraordinary actor."
9:10 PM
James Earl Jones takes to the stage to accept his tribute.
"I want to thank my fellow actors for this great honor. A few years ago, my beloved Richard Harris and I played two fathers on a little movie based on Alan Payton's Cry, the Beloved Country. And we were quite proud of that work. And the recognition we got that year was from you, the Screen Actors Guild, and I just want to express my appreciation for that. Mainly, I want to thank all of you for the work that you do. We read in the Book of Genesis, "Then the Lord God shaked man from the dust of the ground. And into his nostrils He breathed the breath of life, and man became a living being." Now, I don't mean to embarrass anybody, by comparing the actor to God. But once we've taken a role, we have a similar responsibility to breathe life into that character. And only the actor can do that. I love the work you do. Sometimes it simply knocks me out. But it always makes me proud to be counted as one of you. I treasure this honor, and in this gathering of gifted artists, I would like to raise a salute. Paul Newman, somebody down here likes you." – James Earl Jones
9:18 PM
Speaking of legends, the SAG Award for Outstanding Performance by a Female Actor in a TV Movie or Miniseries is being presented by Ernest Borgnine. And the SAG Award goes to Laura Linney, her first SAG Award win.
"What an extreme honor to receive an award from Mr. Borgnine. Thank you so very much. My fiancé told me if I was to win this, not to fondle the Actor, so I'm going to leave him right there, and just look. There are so many people in this room who I care deeply about. Whether I have gone to school with you, or you are a neighbor of mine, or we are friends, or you have been kind to me
when things have not gone well; or you've been humbling with me when things are going well. I am so proud to be a part of this remarkable community of actors. I especially am grateful for the remarkable work of the women in my category. You have inspired me and will continue to do so, I know." – Laura Linney
9:22 PM
The cast of Mad Men joins us. They're surprised and happy about reaction to the show. It's a character study that does not have a built in audience like a crime procedural or hospital drama, adds Jon Hamm.
9:23 PM
Amy Adams and Viola Davis now present a clip from Doubt.
9:24 PM
Terrific in The Wrestler, Marisa Tomei is presenting tonight's Outstanding Performance by a Male Actor in a TV Movie or Miniseries. And the SAG Award goes to Paul Giamatti, who was unable to attend.
9:26 PM
This year's In Memoriam package is introduced by Susan Sarandon.
9:36 PM
Kristin Scott Thomas is handling the presenting chores for Outstanding Performance by a Male Actor in a Supporting Role. And the SAG Award goes to the late Heath Ledger. Dark Knight co-star Gary Oldman accepts on behalf of Heath.
"I'm quite emotional now. It is a great honor to be asked to accept this on behalf of Heath. He was an extraordinary young man, who — with an
extraordinary talent. And it is wonderful that you have acknowledged that and honored that talent tonight. On behalf of Heath, his family, and his family on The Dark Knight, I thank you. Heath!" – Gary Oldman
9:39 PM
Laura Linney joins us backstage. She recently attended the inauguration and says she's clinging to the memory of it. Asked about award advice, she suggest trying to remember the people you want to thank and remembering to enjoy the moment.
9:40 PM
The clip for The Curious Case of Benjamin Button is introduced by two of the film's stars, Brad Pitt and Taraji P. Henson.
9:47 PM
We're in the home stretch now as Ralph Fiennes presents Outstanding Performance by a Female Actor in a Leading Role. And the SAG Award goes to Meryl Streep for Doubt. The remarkably talented actress gets a standing ovation as she takes to the stage. "I didn't even buy a dress!" she says as she displays the pants she's wearing.
"…can I just say, there is no such thing as the best actress. You know? There is no such thing as the "greatest living actress." I am in a position where I have secret information, you know, that I know this to be true. I am so in awe of the work of the women this year, nominated, not nominated. So proud of us girls. And everybody wins when we get parts like this." – Meryl Streep
9:53 PM
Katie Holmes, hot off her successful Broadway debut, presents Outstanding Performance by a Male Actor in a Leading Role. And the SAG Award goes to Sean Penn for Milk. A bit of a surprise back here in the press room as we all thought Rourke was a lock.
"I wept at every one of these guys' performances. It's — you're stunning and… and I'm going to just pick one thing out of the air, because I do also have to say I don't agree with everything that happened tonight. And so I'll just do a random shout-out to one of the unacknowledged, because there's so many, that happened during this season, like Benicio in Steven's Che, which was so great. And all of these nominees, but as, you know, one has to admit, that we know that the — you know, at least for television, whatever happens — whether it includes Mickey or I, or not, at this next thing — we know that the TV people have got their dog fight. But they're idiots because what they don't know, and that me and my fellow nominees know, is that we're all so proud and challenged by each other." – Sean Penn
9:59 PM
It's now time for Anthony Hopkins to present the night's final award, Outstanding Performance by a Cast in a Motion Picture. And the SAG Award goes to the cast of Slumdog Millionaire.
"Well, it was overwhelming enough to be nominated. But to win this is unbelievable. It's unbelievable. Our gratitude to the great, the genius, Danny Boyle. Our Hollywood producer Christian. And the man with the Midas touch, Peter Rice." – Anil Kapoor
10:03 PM
Hopkins says goodnight.
10:14 PM
Sean Penn joins us backstage. Asked if anyone ever warned him not to take the role, or if he had any reservations, his answer was simply "No." He gets a laugh when he says "Every time I make a movie I relearn how old I'm getting by seeing the crow's feet up on the screen."
10:42 PM
The cast of Slumdog Millionaire joins us. Talking about the nominations for the Oscars, Anil Kapoor talks about the reactions in Mumbai. Dev Patel also talked about walking the red carpet and seeing people who had won Oscars before he had even thought of becoming an actor. Freida Pinto said she felt privileged to be part of such a wonderful film. Anil Kapoor also said he felt it was historic for India, for their crews, filmmakers, etc. Irrfan Khan said it was great how Danny Boyle was inspired by Indian films and used elements of them in the film, a mix of his sensibilities and Hindi film style.
Well that's it for another year. Thank you for joining us again for our coverage of the 15th Annual Screen Actors Guild Awards and thanks to the wonderful folks at the SAG Awards for their hospitality.
Special thanks to the beautiful O Hotel for their assistance with our coverage stay and to Freeman Formalwear for Ian Evans' tuxedo.